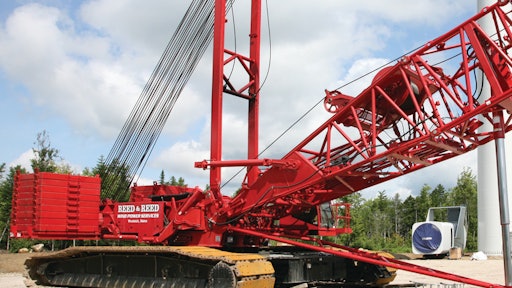 The Challenge:
New Boom Raising System allows contractor to work on a project other equipment would not have
The Players:
Reed & Reed
The Process:
In Eastbrook, Maine, contractor Reed & Reed used Manitowoc's new Boom Raising System to install 19 wind energy turbines at the Bull Hill wind farm. The project marked the first time the Boom Raising System had been used on a jobsite. The 19 turbines at Bull Hill are being built on roughly 100 acres and are expected to generate enough electricity for about 18,000 homes.
Ron Babb, a crane operator with the Reed & Reed, says the new Boom Raising System not only made its wind turbine installations far more efficient, it also gave the company work on a project it may not have otherwise been capable of obtaining or handling.
"This job was a real challenge for us because we moved from 262-foot towers up to 312-foot towers, so we needed more boom to erect the taller towers," he said. "Without the Boom Raising System, we would have been forced to rent another crane or would not have been able to even bid on the job."
The Boom Raising System for the 440-ton Manitowoc 16000 Wind Attachment is designed to raise longer boom lengths for wind applications without the need of an assist crane. The system utilizes a large hydraulic cylinder housed in a special 10-foot boom insert section that attaches to the boom butt. The boom raising cylinder works in conjunction with the boom hoist by exerting an upward force on the boom. This is achieved by extending the cylinder downward onto prepared ground or matting. Once the boom angle is raised to 38 degrees, the boom hoist fully takes over.
Video: Manitowoc 16000 Wind Attachment Boom Raising System - Bull Hill Wind Farm
The Boom Raising System allows end users to lift up to 351 feet of Wind Attachment Boom plus 25 feet of Extended Upper Boom Point. Previously, customers were limited to 301 feet plus the Extended Upper Boom Point. The maximum capacity with 351 feet of boom plus 25 feet of EUBP at a 65-foot operating radius is 96.8 tons.
"In the Northeast and in general, turbines are getting taller and taller - the higher the elevation, the higher the wind speeds," said Pat Defilipp, Reed & Reed's project manager on the project. "We have two Manitowoc 16000s that were getting maxed out, but now the Boom Raising System allows us to erect the taller towers."
Work at the $76 million Bull Hill project was expected to wrap up in November.