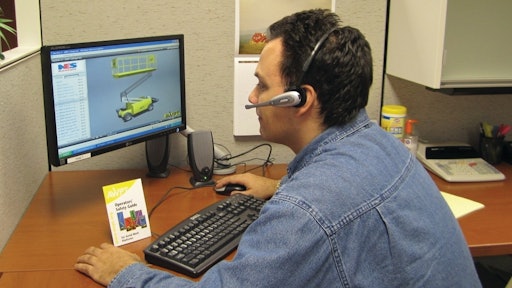 Getting North American equipment operators properly trained has traditionally met with challenges due in part to our culture's strict adherence to the idea that time is money. Employers and employees alike are often resistant to having workers spend extended time away from their jobs to get the training they need. Meanwhile, rental companies often use their sales people as trainers, which can mean less-than-ideal training for the customer and less time focused on selling for the sales person.
Fortunately, there are new options available that aim to alleviate these issues.
Effective training is vital to the safety of equipment operators and particularly for those who use aerial work platforms. While aerial equipment is by far the safest means of working at height, there's a lot that operators must understand before they can be proficient. With this in mind, two new online training options have been recently introduced that make it more convenient for North American operators to get the training they need and for training centers to offer the best product to their customers.
Online options now available
There is no bigger champion of aerial work platform safety and training than the International Powered Access Federation (IPAF). Through its North American subsidiary American Work Platform Training (AWPT), IPAF offers a full-service training package for North American platform operators which meets OSHA, ANSI and CSA requirements and is certified by TÜV Rheinland Group as conforming to ISO 18878.
IPAF's training program has traditionally used classroom instruction, but the organization has just introduced its new eLearning Module as an option for trainees. "We don't believe operators of aerials can be fully trained purely using eLearning techniques," says Tim Whiteman, chief executive officer and managing director IPAF. "But we've developed a module that can be used in place of the half-day classroom training program. It's exactly the same information, the same syllabus, but you can go through it at your own speed, at home or in the office."
Likewise, Genie Industries introduced its own program - Genie Lift Pro Online Operator Training - at The Rental Show in February. This professional-grade program is based on the company's traditional training package but is delivered through a web-based platform and is designed to satisfy the general training requirements for aerial work platforms as defined by ANSI, OSHA and CSA. The program incorporates current adult learning theory and consists of detailed graphics, narration, video and a variety of quizzes that provide an interactive learning environment for the trainee. At the end of the program there's a 30-question exam to verify knowledge retention. Upon passing the exam, a certificate of completion is presented as proof of training in preparation for the hands-on portion. After completing the online training, the trainee must receive hands-on familiarization from a qualified person to complete the training process and become a qualified operator.
"By offering this course online, a much broader range of individuals will have access to the opportunity to become a qualified operator, and a wider range of Genie customers who don't currently offer this type of program will have the ability to provide high-quality operator training to their end users," says Jeff Weido, XXXXX at Terex AWP. "By increasing the percentage of operators who have received quality training through this program, we are all contributing to the improvement of overall aerial work platform industry safety.
How it works
Both IPAF's and Genie's online training take approximately two and a half to three hours to complete. Trainees can start and stop as often as needed until they complete all of the sections.
"It can be done at the trainee's leisure; they can leave the program at any time and return where they left off," Weido says. "They may choose to complete the course in one sitting or they may break it up and do a short section each day. They learn at their own pace, in their own way."
Groat notes that IPAF's eLearning module works similarly, but they do give trainees a 30-day time limit in which to complete the practical test after they've received the eLearning link from the training center. "You can't just use a credit card and sign up online," Whiteman points out. "The eLearning module is part of a package; it's not just an online program."
He continues, "Some centers will offer the eLearning module, some will offer classroom training, some will offer both. Some centers will still prefer to have an instructor."
Breaking down barriers to training
Because these online options do such an effective job of walking the trainee through the training materials, there is less need for an instructor, a fact that opens up possibilities for companies that want to offer training but who might not have had someone on staff who's qualified to train other people and has the knowledge to provide classroom training.
"We still need to continue the entire process of learning, which includes the hands-on training, so we have created a new qualified position known as an evaluator," Groat explains. "The evaluator can do all of the hands-on practical evaluations. They proctor the written test and they perform the hands-on evaluation."
He continues, "This provides some companies the ability to now offer training because they have people who can become qualified to be an evaluator but don't have the qualifications to be an instructor. That's a significant change in the marketplace."
As for the cost of these online options, both IPAF and Genie have a set price for training centers to use their online training component, but it's up to the training center to decide what to charge its customers.
"We're proud that this can be a revenue stream for the training centers because then it motivates them to go out and get as many people trained as possible," Whiteman says.
An idea whose time has come
The concept of offering an online training option for AWP operators stems from a need in the marketplace. For both IPAF and Genie, it came down to customer demand.
Specifically, the idea for IPAF's eLearning module came from one member's belief that North Americans needed a new model for training. It was Andy Studdert, chairman and CEO of NES Rentals, who developed the idea.
"The problem in North America is we've been using the European model for training, which isn't ideal for the way North Americans learn," Studdert says. "We at NES have been doing a lot of eLearning using vendor programs for maintenance and so on, and it's been very effective. So I challenged our human resources and safety teams to take the IPAF curriculum and come up with an online module for it. It took about a month and we tested it, everyone signed off on the test and then we trained everyone in the company in less than three months."
IPAF embraced the eLearning idea while maintaining its commitment to offering a comprehensive training package. "We saw a lot of things in the marketplace that we thought were noncompliant and misled people," Groat says. "We believe eLearning can be done properly and we have an obligation to provide our members with an appropriate eLearning tool, so we partnered with NES Rentals and put over 1,000 individuals through the program."
For its part, Genie's Lift Pro program is a result of a need among their customers to alleviate the burden of training. "Many rental companies were asking for help because their sales people were spending all of their time training end-users instead of selling," Weido says. "Meanwhile, they ran into difficulties with offering traditional classroom training because it requires a qualified instructor, something not every rental company has on staff."
Groat points out that when individuals take part in a comprehensive training program, they're typically off work for a full day, which translates into lost productivity. "By allowing trainees to do the eLearning module, it eliminates that problem for the employer and employee. At the same time, when you're looking at rental companies, who are using their sales people to do the training, they can keep their sales people out selling."
The end result is what counts
"People learn in different ways," Groat says. "Some people like to have visuals, some prefer auditory instruction. We aren't saying eLearning is better than having an instructor or vice versa. They both provide a very structured approach to the information so an individual can learn, but they need to be equivalent in terms of the results they provide."
Whiteman adds, "One of our basic philosophies has been, if you're going to get a PAL card, at the end it's got to be the same regardless of how you were trainied."
The PAL card is a unique aspect of IPAF training. Whether trainees are instructed in a classroom or through the eLearning module, they get a PAL card - much like a driver's license - at the end of the program. "It's not company specific," Whiteman points out. "It's generic proof of training."
Trainees in Genie's program also receive a card as proof of completing the program, which is also non-brand specific. "Because the training is general in nature, it covers safe operating practices and principles for almost all brands, makes and models of aerial work platforms," Weido says.
It's important to note that effective training must be compliant with the standards. "The standards are very specific when they say the operator must be able to perform a pre-start inspection, workplace inspections and that each trainee shall operate the equipment for a sufficient period of time to demonstrate actual proficiency on the equipment," Groat points out. "So, what is a sufficient period of time and what is proficiency? Neither one is well defined by OSHA, ANSI or CSA, but IPAF follows an international ISO standard that provides some of those guidelines. Many in the industry don't even know this is a requirement."
How to become a training center
Both IPAF and Genie have requirements for businesses that wish to sell their online training. Among them are the need for a qualified person who can administer the hands-on portion of the test. For more information, contact:
PAL Card, Tony Groat, AWPT, at
Genie Lift Pro, Jeff Weido, Genie Industries, at