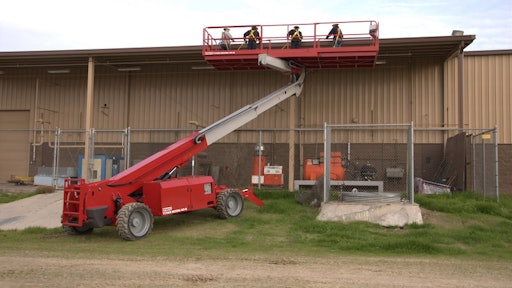 iCON Building and Maintenance Company, LLC was tasked with the building of a new 234,000-sq.-ft. warehouse in Ashland, OH. It had initially inquired at ALL Erection & Crane Rental in Cleveland about renting a less expensive 40-ton rough-terrain crane. As a repeat customer who had always been happy with ALL, iCON was amenable to the possibility of pairing a larger, 50-ton-capacity RT crane with an MEC Titan Boom 40-S self-propelled boom lift. The Titan offers a 4,000-lb. capacity (four riders plus a 3,000-lb. load), 40-ft. extension capability, 8' x 22' platform and two-wheel, four-wheel, and crab steering modes.
Because the job involved a large amount of material transport, Eric Wegner, an outside sales representative for ALL Erection and Crane Rental Corp., felt the company would benefit from the Titan Boom. ALL currently has two Titans in its fleet, rotating between West Virginia, Canada, Wisconsin, Ohio, Illinois and Pennsylvania.
"On jobs like this, builders generally use a smaller crane and two manlifts," Wegner says. "Because the iCON team was bridging the roofing joists, I felt that the reaching capacity of a bigger crane, plus the strength of the Titan, would enable the bridging guys to keep pace with the joist setters."
Typically, a regular personnel lift requires multiple trips up and down throughout the day, loading and reloading. With the Titan, loading was reduced to two trips per day instead of the previously predicted four.
According to Jason Chio, co-owner of iCON Building and Maintenance Company, "I figure we saved two men's salaries for two weeks. The Titan completely paid for itself, and the guys loved it. The first day it arrived on the job, I walked in and found them already in the air... It freed them up to do other work."
The job, which was initially planned for five weeks, instead took a mere 10 days to complete.
Companies in this article