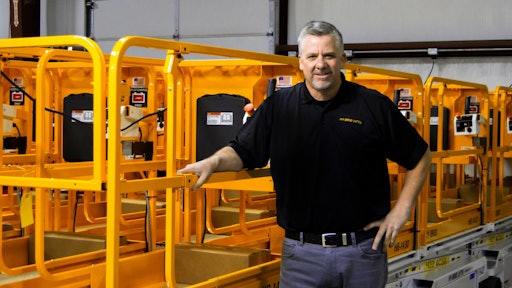 By now, most in the equipment rental industry are aware there are changes to ANSI standards for mobile elevating work platforms (MEWPs) that go into effect this December. Many, however, still don't fully understand what this means to them and their business. To shed some light on this issue, we talked with Terry Dolan, president and CEO of Hy-Brid Lifts, makers of several lines of scissor lifts, to get  his perspective on the issue. Following is an excerpt from that discussion.
[PODCAST] Why New ANSI Standards Matter to Your Business
OSHA is Law – Why Should I Care About ANSI Standards?
Jenny Lescohier, editor, Rental: In summary, what are the major changes coming?
Terry Dolan, president and CEO of Hy-Brid Lifts: There are some new responsibilities for owners, users, and people who are on and off of the lifts, and there are some significant equipment changes that we as manufacturers of equipment are required to do.
Rental: We need to clarify what users are because in the ANSI language, "user" is a little bit confusing.
Dolan: The "user" is not just the person operating the machine, it's the dealer and owner too. It's also the site supervisor who's bringing the product onto the jobsite, because there are things that have to be done, not only familiarization and making sure everybody who's on the product is trained and understands how to utilize the product, but there also has to be a safe use plan as well. The new standards are making sure that when supervisors bring this product on site, they have a safe use plan designed for those operators.
Rental: What about design changes? How do they affect the manufacturer and the user?
Dolan: The changes that are being made are really about putting the people who are in the lifts, and around the lifts, into a safe environment. A lot of the changes that you're going to see are regarding load sensing; entrance gates; designs to prevent material from falling out of the platforms. There's a lot going into the design of these machines, and what's great is the industry is really trying to make sure we're all meeting these new requirements.
Rental: With regard to load sensing, these machines will now simply not lift more than what they're rated for. So what if a renter doesn't understand all this, and all of a sudden, this machine isn't working? What are manufacturers doing to alert operators, or is it on the rental company to explain this machine has load sensing and it just isn't going to work if you put too much weight in it?
Dolan: I came out of the earth moving equipment industry, where product could often lift more than what it was rated for. And you would see customers trying to find unique ways to make that happen. I think really good communication is very important, but I think what you'll also see is additional markings on our products. And I think you'll see those markings become a little bit bigger and bolder to make sure people are aware of the maximum load you can lift. Customers that were used to some of the older machines being able to pick up additional weight may be a little bit frustrated at first. But I think through training, and through familiarization, customers will understand they have to pick the right product for the job. And that's going to be incumbent upon the industry to really help those customers with the proper selection.
Rental: I know there's some confusion among lay people between ANSI standards and OSHA regulations, all of the things that affect everyone involved in the use of powered access equipment. How do you impress upon your customers why they need to pay attention to these new ANSI standards?
Dolan: I think it just comes down to safety. As manufacturers, we focus heavily on safety inside our plants. And it's really incumbent upon everybody to focus heavily on safety when people are utilizing any piece of equipment. We need to make sure the site supervisor, the owners, and the renters of this equipment, are fully aware of the product they're utilizing and understand there are some nuances between one manufacturer's product and how it operates versus another manufacturer's product. We should never assume somebody has all the knowledge. At the end of the day, we want people to be able to work at height and be productive efficiently. Taking those extra steps toward safety are really incumbent upon all of us. So we're working with our dealers, with the rental companies, the general contractors, and the end-users, to make sure we're passing that message on, because again, it's a responsibility for all of us.
Rental: As you've been doing that, are you finding there's a general understanding that these changes are coming and what they mean? Or do you feel there's still a lot of ground that needs to be covered in the next few months to get people to actually put these new directives into practice?
Dolan: Quite honestly, I think it's the latter. I believe a lot of the trades, and a lot of the smaller end-users and smaller rental companies, are still not fully aware of what's happening. Now each of the manufacturers, as well as other organizations that are related to the lift market, such as IPAF, are doing everything they can to communicate that message to people, but it still has to get out there and has to get out there faster. Rental companies need to be handing out information to make sure everybody's aware of the changes that are coming.
Rental: If you could boil it down to the most important nugget that you would like those people to at least have some grasp of in the next few months, what would it be?
Dolan: I'd say training, and I'd tell users to reach out to either their local rental company or one of their local dealers to see if they can bring training to them. Again, a lot of the manufacturers have developed training, or have aligned with organizations like IPAF, which has its own training. It's going to take an expert who's been trained on how to deliver this training, and provide it in a consistent manner to make sure the message is getting across to everybody.
Rental: The ANSI standards are consensus standards, so to speak, meaning people agree these are best practices, they're not law. But what can happen to any party involved if they decide they're just not going to do anything to comply? 
Dolan: At the end of the day, they're going to put their employees at risk, and nobody wants to do that. So legally, what's going to happen to them? That's not something that I'm an expert in. But the rules and the standards are clear that we all must do the training, we all must do the familiarization. We all want to provide safe use of these products. And making sure and ensuring employees or users or anybody who's on or around these products are safe, is incumbent upon all of us in any job we do.