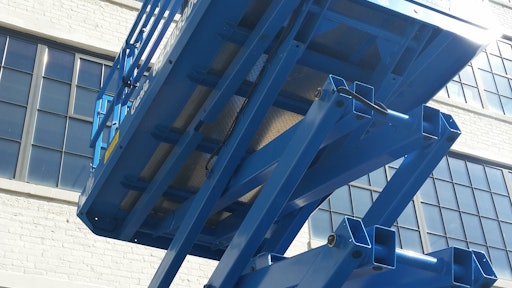 Source: Global Market Insights
Aerial work platforms (AWPs), also known as elevating work platform, mobile elevating work platforms, bucket trucks or aerial devices, are commonly seen along roads and highways fixing telephone, electrical and cable lines. Common types of AWPs include boom lifts, scissor lifts and vertical mast lifts, among several others. These lifts have the ability to reach trees, tall buildings or other infrastructure and facilitate the lifting and lowering of workers and linemen to and from high places.
Building & construction, rental, transportation and  logistics, utility and mining industries are some of the major end users of elevating work platforms. The global AWP market is poised to grow substantially over the next few years due to rapid expansion of these sectors along with several other factors such as strong focus on smart city development. In addition, a growing number of building and construction projects, particularly in the APAC region, will generate substantial opportunities for the deployment of AWPs.
The U.S. market is expected to see growth growth in three key areas.
Impact of Transportation and Logistics Boom
The U.S. transportation and logistics industry forms one of the world's largest consumer markets. Statistical data suggests that 65% of America's consumable goods are trucked to the market. Multinational players are exploring strategies to invest in this highly competitive sector. Different aerial lifting equipment is used for a range of transport management and utility coordination applications within the logistics industry.
As the expanding U.S. transportation sector goes digital, aerial lift manufacturers are expanding their production capabilities to keep up with the ever-growing competition. For instance, French AWP manufacturer Haulotte opened a branch in Long Beach, CA, noting it plans to use the facility as a machine distribution center to better serve customers, specifically those on the West Coast.
The presence of prominent market players around the world is anticipated to drive AWP industry trends in the coming years. Manufacturers are focusing on the introduction of technologically advanced machines, such as electrically powered platforms, to ensure eco-friendliness and safety.
Growing Renewable Energy Projects Fuel Demand
The U.S. utility sector is investing heavily in sustainable energy projects, focusing on upgrading its existing grid infrastructure. In addition, leading technology giants are making sizable investments for the development of solar and wind projects across the region.
For instance, in September 2019, American search engine giant Google revealed its plans to invest in solar and wind energy. The company announced a total of 18 new clean energy deals across the U.S., Europe and Chile, and it intends to purchase energy from solar farms based in Texas, North Carolina and South Carolina. Google said it will also invest in data center projects in Chile that combine solar and wind energy.
Shortly after Google's announcement, ecommerce giant Amazon also announced three major sustainable energy projects across the U.S. and UK. Amazon's new solar and wind projects are expected to commence power generation by 2021. The brand aims to achieve about 80% sustainable power dependency by 2024, and eventually 100% by 2030 end, to realize its net-zero carbon emission goals by 2040.
Utilities Continue Clean Energy Shift
Aerial lifts such as scissor lifts, booms lifts, personal portable lifts and vertical mass lifts are prominently used in the utility sector. Elevating work platforms play a key role in ensuring that electric utilities as well as workers and linemen who work for them can do their jobs safely and efficiently. Installation of solar panels in solar farms as well as the setting up of windmills for wind power generation requires the lifting of workmen and equipment at heights.
With the U.S. government and prominent technology brands strongly focusing on switching to clean sources of energy and encourage sustainable power generation, increasing number of such projects may be witnessed in the near future. According to the U.S. Energy Information Administration (EIA), there has been a 90% rise in renewable electricity generation between 2008 and 2018, with the majority from solar and wind projects.