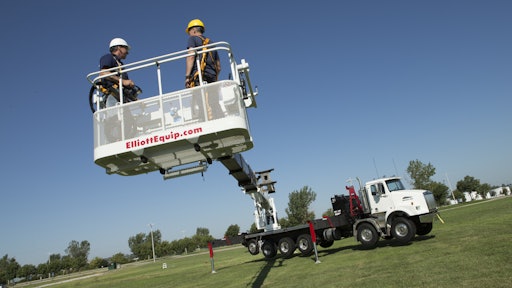 Elliott Equipment Company and Utility One Source have developed the 190-ft. E190 E-Line in an exclusive partnership to serve the utility market. The "tallest truck-mounted telescopic aerial made in North America" was unveiled at ICUEE 2015.
"This is an extremely significant product for us," says Jim Glazer, president of Elliott Equipment Company. "We took all of the benefits of the E145 and E160 and made this into a 190-ft. reach on a powered boom. There are no jibs required to get to 190 ft."
The E190 also adds features to the E-Line series, including an isolating jib and isolating platform yoke. In addition, it conforms to ANSI A92.2 standards for vehicle-mounted rotating aerial devices. As a result, it is exempt from OSHA's trial lift and proof test requirements.
202-ft. working height with fiberglass jib extension and extends 190 ft. with a fully powered boom
All functions monitored by a work envelope management system that senses lift cylinder pressures, boom length and boom angle with a hydraulic lockout safety feature
Work area definition system designed to allow operator to set jobsite parameters around obstacles or hazards
EZ-Crib outriggers provide 30-in. additional penetration, reducing cribbing and setup time
36" x 72" hydraulic dampening yoke platform with 1,200-lb. capacity
Hydraulic tool circuit with 10,000 psi intensifier in the work platform increasing usable platform capacity
Wireless proportional controls with hard-wired backup
30,000-lb. material-handling capacity
Non-metallic load line saves weight, increases safety and improves ease of use
Options include an electric isolating platform yoke and heated and air conditioned lower control cab
Request More Information
Fill out the form below to request more information about
Elliott 190-ft. E190 E-Line Aerial Device