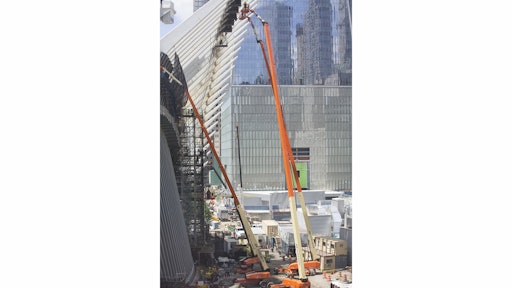 Three JLG 1850SJ Ultra Boom lifts recently arrived in New York City to work on the highest reaches of the Oculus, the new transportation building that will serve the reborn World Trade Center complex and all of lower Manhattan. When it opens in 2015, the 800,000-square-foot facility for rail, bus and taxi services will see an estimated 200,000 commuters and thousands of tourists pass through its doors daily. 
Currently the tallest self-propelled boom lift on the market, JLG Industries launched its 1850SJ Ultra boom with nearly three million cubic feet of reachable space earlier this year. Delivering 19 stories of working height, this latest innovation in the JLG line of Ultra Series boom lifts reaches more applications at unprecedented heights, moving aerial work platforms into applications previously reserved for truck-mounted booms and allowing operators to work more effectively and productively on the jobsite. 
"This one-of-a-kind machine represents the latest example of JLG's long and well-documented history of innovation in boom lift design and manufacturing," said Jeff Ford, JLG Industries global product director, aerial work platforms.
The JLG 1850SJ offers a maximum capacity of 1,000 pounds, allowing operators to move more tools and materials to the elevated worksite. Productivity is further enhanced with faster cycle speeds, enabling the boom to extend from ground to full height in less than five minutes and operators to spend more time working and less time positioning the lift.