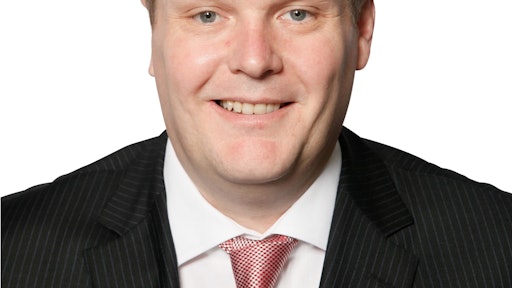 Snorkel, a global manufacturer of aerial work platforms, announces the appointment of Matthew Elvin as CEO. He replaces Darren Kell, who has completed the transition of the Snorkel business into the hands of the new ownership group, and has stepped down as CEO to concentrate on his other personal investments and business interests. 
Elvin joined Snorkel in September 2010 as President of Australia and New Zealand overseeing Snorkel sales in the Australasia region. Following a successful period of sales growth, his responsibilities were expanded to include the management of the New Zealand manufacturing facility and, most recently, control of sales and distribution in Asia.
Elvin has a proven professional track record. As Managing Director of Dynapac, he developed the brand into Australia's leading compaction equipment supplier, and was a member of the global senior management team. During his tenure as Executive General Manager at Clark Equipment Australia, Elvin led the complete engineering and manufacturing of dedicated container handling equipment.
Elvin started his career within the equipment service sector, and has significant knowledge of the manufacturing process. He holds an Executive MBA from Mt. Eliza Business School and is a member of the Australian Institute of Company Directors (AICD) and the Australian Institute of Management (AIM).
He has relocated from Sydney, Australia to Las Vegas, NV, to be based at Snorkel's new global headquarters, which is also home to Xtreme Manufacturing, the majority shareholder in Snorkel.
Don Ahern, owner of Xtreme Manufacturing, said, "As Snorkel opens this new chapter in its history, I am confident that Matthew is the right person to lead the company forward. He has a proven ability to create strategic clarity, drive innovation and growth, ensure disciplined execution, and deliver results. His passion for the Snorkel business, and the industry as a whole, will help to ensure that Snorkel regains its rightful place within the AWP sector."
Under Elvin's direction, Snorkel plans to implement a clear, long-term strategy that will rebuild the brand and re-focus the company on its core values. The initial step will be to establish the executive team to support Elvin in the implementation of the strategy.
Elvin said, "Snorkel has a strong global team and infrastructure already in place, and with the investment from Xtreme Manufacturing, is now poised to tap into many new opportunities. My goal is to facilitate real and positive changes throughout the organization for the benefit of our customers."