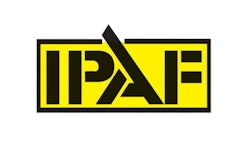 Nearly 200 conference delegates were in attendance at the 2015 IPAF Summit in Washington DC, March 26, to listen to presentations focused on how new and existing technologies will change the face of the aerial market over the next five to 10 years. 
The morning session was chaired by Lindsey Anderson, editor of Access Lift & Handlers. Speakers included Giles Councell, IPAF director of operations, who explained the benefits of IPAF's Smart Card and current developments such as a smart phone app that will provide operator identification.
Chris Wraith, IPAF technical and safety executive, outlined the challenges posed by wide ranging regulations and standards and explained how IPAF can help influence them through its worldwide network. "We are trying to iron out the differences of our standards worldwide," he said. "IPAF is a world authority so this is how we can help do it."
Tamlin Roberts, CEO of training development specialist Bolt Learning, explained how eLearning, as well as training in general, should be aimed at the individual's needs and learning style to ensure potential operators have fully understood and comprehended the content of that training.
Tony Groat, IPAF North America, outlined the challenges in reducing the fatalities caused by electrocution which is the top killer in the North American MEWP sector. OSHA regulations for cranes have already been changed to state operators should be 20 feet away from power lines while working - previously it was 10 feet, which remains the same for MEWPs. Groat says the standard for MEWPs should be changed soon.
The afternoon session, chaired by IPAF CEO Tim Whiteman was kick-started with a keynote speech by Frank Nerenhausen, president of JLG, who discussed emerging technologies and their potential applications in the access industry during his talk Gimmicks or the Next Reality. Norty Turner, CEO of Riwal, reported on rental operations in emerging powered access markets.
Stefan Ponea, CEO of Industrial Access, Romania, explained how new technology is being used to combat old-fashioned crime; and OSHA's Jordan Barab, deputy assistant secretary at the U.S. Department of Labor, provided an update on OSHA's program to prevent falls from height.
Other Summit speakers included Audrey Courant from Ducker Research, who presented IPAF's latest research into the size of the AWP/MEWP rental sector and IPAF's forecasts for the coming year and Joanne Ulnick, CEO of Ducker Worldwide, who talked about the impact of market dynamics on rental companies.
Finally, sharing her journey to uncover new powered access markets was Sibel Aygül, marketing and sales manager at Up Makine from Turkey.
The IPAF Summit was held on the same day as the International Awards for Powered Access (IAPAs).