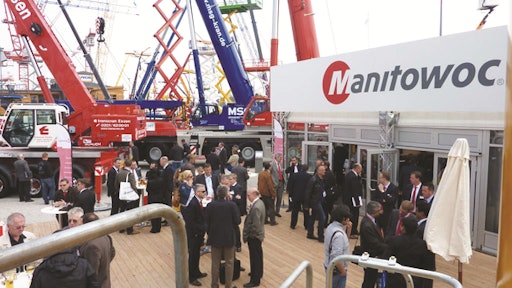 Manitowoc Cranes is presenting a host of products, including several notable innovations, on its stand at this year's bauma 2016 trade show. The event marks the first time the company participates in a major trade show as a standalone company following the separation of Manitowoc Cranes and Manitowoc Foodservice from The Manitowoc Company, which occured in the first quarter of 2016.
 
"We are excited to be at bauma 2016 for the first time as an independent business and at the start of a new chapter in the history of Manitowoc Cranes," said Larry Weyers, executive vice president of Manitowoc Cranes. "But some things haven't changed. For us, our customers remain our primary priority and, in particular, we are focused on helping them achieve more. As a company we talk about our desire to "Build Something Real" and that means delivering real benefits to our customers in five key areas. Those are: return on investment; performance; quality and reliability; customer support; and agility – which means building cranes that customers need. At bauma 2016 we will be showing customers how we are making advances in each of those areas. And this helps them 'Build Something Real'."
Utilizing a larger exhibition area than at bauma 2013, Manitowoc is in a new location at the fair, occupying space across stands 1201, 1202 and 1302/1, comprising 3,253 sq. m, in the outdoor showground. It is presenting a number of cranes, including several notable new products. New additions from Manitowoc Cranes include some surprises that the company will reveal during the show. Elsewhere is a new Grove rough-terrain crane, the first from a newly announced range, plus two new Grove all-terrain cranes. In addition, there is a crane from the completely new range of MDT CCS tower cranes.

The new Grove GRT8100 rough-terrain crane is among the first new Grove crane designs since the company introduced its Product Verification Center (PVC) at its factory in Shady Grove, PA, U.S. The PVC allows Manitowoc to conduct unparalleled levels of testing on components, which in turn drives the development of more productive and more reliable cranes that deliver better value to customers.

From Grove's homegrown range of all-terrain cranes, built at its plant in Wilhelmshaven, Germany, there are four units on display, including three new units making their first trade show appearance. Two new models, the GMK5250L and GMK4100L-1, offer a new single-engine design that delivers class-leading capacities. A GMK6400 is also being shown. 

Potain cranes is featuring both self-erecting cranes - including the Igo M 14 which launched at bauma 2013 - and top-slewing units. From the top-slewing line, the company is showing its MR 418 luffing jib crane alongside the MDT 389 and MDT 219. The MR 418 was first shown at CONEXPO 2014 and its appearance at bauma 2016 marks its European premier. With a maximum capacity of 24 t, the MR 418 is one of Potain's largest luffing jib cranes, while the 16 t maximum capacity MDT 389 is the largest crane in the new CCS topless range. The MDT 219 is the largest model in the new MDT CCS City Crane range and is available in an 8 t or a 10 t version. 

In addition to highlighting its products, Manitowoc is showcasing its range of value-added support services. These include Manitowoc Crane Care, its customer support division; EnCORE, its refurbishment and remanufacturing arm; Lift Solutions, its in-house engineering team that handles special customer requests for machinery, products or lifts; and Manitowoc Finance, its funding arm.