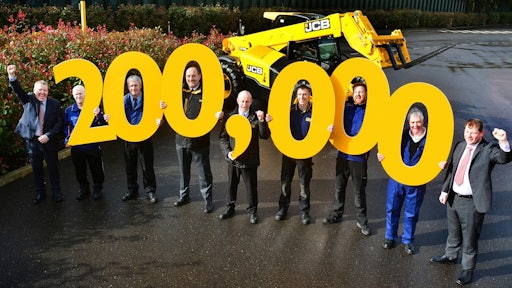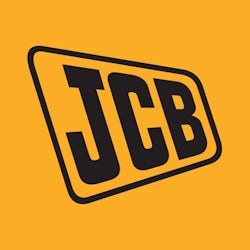 JCB's Loadall has provided material-handling and lifting solutions for construction, agricultural and industrial markets for almost four decades. Today, JCB celebrates the production of its 200,000th Loadall telehandler, a milestone in the material-handling history.
Launched in 1977 as the JCB 520, the first Loadall was a two-wheel-drive machine with a 21-ft. lift height and a maximum lift capacity of 2.48 tons. Previously, contractors had lifted materials with rough-terrain forklifts, backhoe-loaders and wheel loaders. Over the past 40 years, the Loadall range has expanded to incorporate machines with working heights of up to 65.6 ft. and maximum lift capacities exceeding 6.61 tons.
With every update, JCB has moved the telescopic handler market forward, introducing four-wheel drive, placing the engine to the side of the chassis to allow a lower boom mounting position and offering multi-mode steering with equal-sized wheels to improve maneuverability.
"From very small beginnings, the JCB Loadall has become a very important machine for JCB and for the construction and agricultural industries," said Lord Anthony Bamford, JCB Chairman. "The way loads are handled on building sites and farms has never been the same since we introduced the Loadall in 1977."
It took almost 30 years for JCB to sell the first 100,000 Loadalls, but it has taken less than 10 years to sell the subsequent 100,000 units.
JCB Loadall Timeline

1977 JCB launches the 520 two-wheel-drive telescopic handler with 2.48-ton maximum lift and 6.4m-lift height. The heavier lifting 525 was added in 1980.
1981 The lighter second-generation 520-2 and 520-4 is launched, introducing four-wheel drive, the Q-fit implement carriage and larger rear wheels for improved traction and flotation.
1982 JCB adopts the "Loadall" name for its telescopic handler range.
1986 The Synchro Shuttle transmission provides slicker gear shifts and faster travel speeds.
1987 JCB introduces the light-touch Servo joystick control system.
1989 The new-generation Loadall 525-58 and 525-67 feature mid-engine installation and lower boom pivot, improving rearward visibility. Equal-size wheels and multi-mode steering transform maneuverability and traction.
1997 The first side-engine Loadall 530, 540, 532 and 537 models provide optimal powertrain access and further improved right-hand and rear three-quarters visibility.
2001 JCB introduces its biggest Loadall to date, the 540-170*, offering a 54.8-ft. lift height from a four-stage boom.
2005 First JCB engine – the 4.4-liter, 100hp mechanical fuel injection Dieselmax – is installed in rear-engine models.
2006 The Loadall becomes the first telescopic handler brand to reach the 100,000-unit production milestone.
2009 The company launches the the Loadall 527-58, the first compact hydrostatic drive side engine model, with a 2.98-ton lift capacity and nearly 19.69-ft. lift height in a compact and highly maneuverable package.
2012 New 4.4-liter JCB EcoMAX engine with variable geometry turbo brings a 74-hp option to the Loadall range.
2013 The highest-lift Loadall, the 540-200*, launches with a 65.6-ft. five-stage boom. Ultra-compact hydrostatic drive Loadall 525-60 HiViz launches.
2014 Smart Technology package on Wastemaster machines includes regenerative lift cylinder hydraulics speeding up loading cycles by up to 20% or cutting fuel consumption by 15%.
2015 The Loadall range features EcoMAX T4F engines with simple no-DPF, one-can exhaust SCR emissions solution for Tier 4 Final regulations.
2016 Loadall production hits 200,000 units.
*Models not available in North America