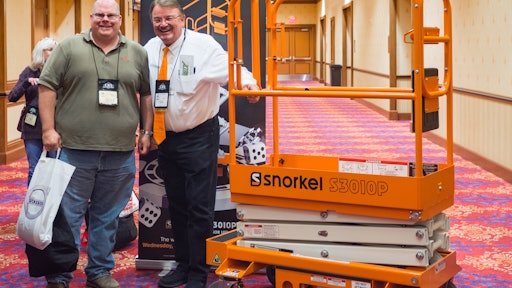 Snorkel continued its tradition of giving away a push-around mini scissor lift at the annual California Rental Association (CRA) Rental Rally in Las Vegas, NV, recently. During the end-of-show raffle on Wednesday, Jan. 24, Don Ahern, owner of Snorkel, announced Kevin Davis of American Rentals Inc., as the fifth person to take home a free scissor lift from the show. 
Entrants had to submit their business card on the Snorkel booth during the show, and be present at the end-of-show raffle to be eligible to win. Kevin follows in the footsteps of Lynne Domey of Eastern Oregon Rental & Sales, who took home the push-around lift in 2017, and Tony Beringer of Baker Rentals & Sales in Costa Mesa, CA, who won in 2016.
To celebrate giving away the fifth scissor lift at the show, Snorkel upgraded the prize from the Snorkel S3008P to the Snorkel S3010P.  Designed for low-level construction and facilities maintenance applications, the Snorkel S3010P is an innovative push-around mini scissor lift, which provides a cost-effective way to safely work at low level heights indoors. Capable of withstanding the demands of construction sites and the rental industry, the Snorkel S3010P can lift 430 lbs. to a working height of 15 ft. 10 in.
During the prize draw, Ahern reinforced his support for independent rental companies, stating that "Independent rental companies are the heart and soul of this industry, and it is great to be part of the California Rental Association. The lucky winner of the Snorkel S3010P not only wins a scissor lift, but also a lifetime of rental return. I would like to send my congratulations to American Rentals Inc. who I am sure will benefit from having this innovative product in their fleet."
American Rentals' sales representative, Kevin Davis, won the Snorkel S3010P. Headquartered in Long Beach, CA, American Rentals was founded in 1984 as American Truck and Tool Rentals. Today, American Rentals operates multiple locations in Orange and Los Angeles Counties serving the construction and industrial segments.
For more information on the Snorkel S3010P, visit www.snorkellifts.com. For more information on American Rentals, Inc., please visit www.american-rentals.com.