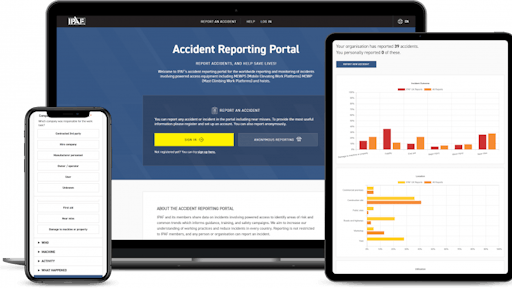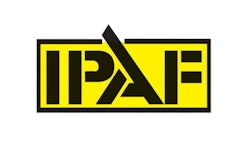 The International Powered Access Federation (IPAF) has made its worldwide accident reporting portal available in multiple languages and added a new interactive dashboard to allow members limited access to the latest available anonymized accident data
Last year, IPAF revamped its accident reporting portal to make it easier to report an accident or near-miss—near-miss information being particularly useful in preventing more serious accidents. The new portal works on multiple devices, allows multiple users per company, and has a feature for users to register subsidiary companies. It's also now available in all main IPAF languages – Dutch, English, French, German, Italian, Korean, Portuguese, Spanish, and simplified Chinese.
There is also a new dashboard feature for members to view and compare data sets from the latest available anonymized accident data, to brief and inform health and safety managers or those in charge about setting safety and training policies in powered access operations.
The new dashboard is available via the members' area of the IPAF website, and members can log in to view data charts and access configurable graphs covering accidents sorted by date range, country, incident outcome, and more. Users are reminded the dashboard charts are intended for individual member use and are not to be used in external presentations or reports without express prior permission and approval. 
Brian Parker, IPAF's head of safety and technical, says, "We are pushing the new portal to demonstrate the enhanced user experience and also the benefits of gathering reliable data from all around the world. Having the portal now fully functioning in all the main IPAF languages is a great step forwards in this regard; giving all reporting members access to the data to share internally and to inform their own company safety strategy is just another of the ways IPAF is determined to build and make this vital data available to our members for the wider benefit of safety in the industry."
Peter Douglas, CEO and managing director, adds, "The IPAF Accident Reporting project, which I am proud to have been involved with since it began in 2012, is only as good as the data it can gather and the usability of the analysis and statistics it generates. Having the portal available in all our core languages and also offering reporting members this new dashboard facility will help convince people of the underlying value of the project, to help keep our industry safe.
IPAF will launch the Global MEWP Safety Report 2021 in a webinar online on June 22. For this and other upcoming IPAF events and webinars, visit www.ipaf.org/events.
Information provided by IPAF and edited by Alexis Sheprak.