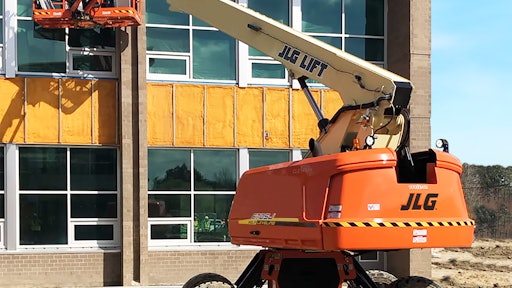 JLG Industries announces the introduction of its 670SJ self-leveling boom lift. 
Increases a lift's capability on slopes 0 to 10 degrees in any direction with the boom elevated
Improved ability to traverse uneven surfaces while keeping the chassis level and improve traction capability on sloped ground
67 ft. platform height boom lift with 550-lb. unrestricted, 750-lb. restricted capacity
Offers 45% gradeability
57 ft. 1 in. horizontal reach
Elevates to full height or back to ground level from full height in just 101 seconds
Automatically levels on grades up to 10° when in self-leveling mode
Standard mode for driving with the boom down at faster speeds; shipping mode allows the suspension to be lowered during transport
Smart suspension results in a foot more platform height
Reduces or eliminates manual labor and time required to set up cribbing and/or grade the work area
Allows the boom lift to get closer to the work area, maximizing its reach capabilities and minimizing the need for larger,  higher reaching lifts as backup
Decreases platform movement during travel improving operator comfort and reducing the risk associated with movement of objects within and/or falling from the platform
The seed idea for the self-leveling boom lift came as the result of identifying and understanding customer needs. After seeing how challenging select boom lift applications could be, JLG engineers realized that the industry as a whole had designed current lifts for the near ideal conditions of firm, flat surfaces with a grade of 5° or less. This was the root cause of many customer pain points, because the world is neither flat, nor does it come with improved surfaces.
Request More Information
Fill out the form below to request more information about
JLG 670SJ Self-Leveling Boom Lift