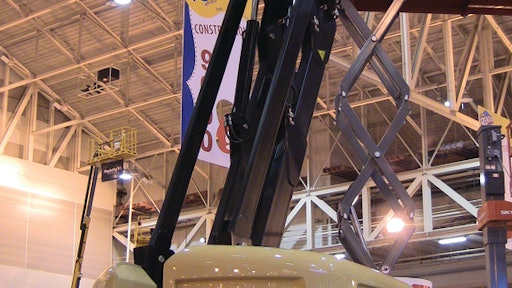 Skyjack previewed its first 60-ft. articulated-boom aerial work platform, the SJ63 AJ painted in New Orleans Saints colors and supported by a booth full of personnel in the local football franchise's jersies.
"We're having some fun with it," said Paul Kreutzwiser, Skyjack senior product marketing manager. "Customers are anxious to see our product line expand, but we're still 10 months before production, so we're not really talking about the model's details."
What we do know is that it is expected to have a platform heighth of 63 ft. Design targets include 40 ft. of horizontal reach with 27 ft. of up-and-over reach in a package that weighs less than 22,000 lbs.
Like Skyjack's current booms, the SJU63AJ will be powered by either a GM Vortec 3.0L dual-fuel or a Deutz Diesel engine. It will share a common power train, hydraulic and electric components. Direction-sensing drive and steer controls allow intuitive operation by ensuring that the controls are oriented like the operator regardless of the basket position relative to the chassis.
Companies in this article