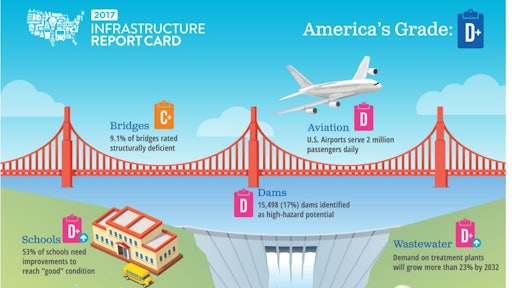 The 2017 Infrastructure Report Card from the American Society of Civil Engineers reveals that the U.S. has made some incremental progress toward restoring the nation's infrastructure. But it has not been enough. As in 2013, America's cumulative GPA is once again a D+.
The 2017 grades range from a B for Rail to a D- for Transit, illustrating the clear impact of investment – or lack thereof – on the grades. Grades for three categories – Parks, Solid Waste, and Transit – declined this year, while seven – Hazardous Waste, Inland Waterways, Levees, Ports, Rail, Schools, and Wastewater – saw slight improvements. Six categories' grades remain unchanged from 2013 – Aviation, Bridges, Dams, Drinking Water, Energy, and Roads.
The areas of infrastructure that improved benefited from vocal leadership, thoughtful policymaking, and investments that garnered results. These improvements demonstrate what can be accomplished when solutions that move projects forward are approved and implemented.
Local ASCE experts have prepared State and Regional Infrastructure Report Cards following the methodology of the national Report Card to raise awareness about local infrastructure needs.
The ASCE Committee on America's Infrastructure, made up of 28 dedicated civil engineers from across the country with decades of expertise in all categories, volunteers their time to work with ASCE Infrastructure Initiatives staff to prepare the Infrastructure Report Card every four years. The committee assesses all relevant data and reports, consults with technical and industry experts, and assigns grades using the following key criteria:
Capacity: Does the infrastructure's capacity meet current and future demands?
Condition: What is the infrastructure's existing and near-future physical condition?
Funding: What is the current level of funding from all levels of government for the infrastructure category as compared to the estimated funding need?
Future Need: What is the cost to improve the infrastructure? Will future funding prospects address the need?
Operation and Maintenance: What is the owners' ability to operate and maintain the infrastructure properly? Is the infrastructure in compliance with government regulations?
Public Safety: To what extent is the public's safety jeopardized by the condition of the infrastructure and what could be the consequences of failure?
Resilience: What is the infrastructure system's capability to prevent or protect against significant multi-hazard threats and incidents? How able is it to quickly recover and reconstitute critical services with minimum consequences for public safety and health, the economy, and national security?
Innovation: What new and innovative techniques, materials, technologies, and delivery methods are being implemented to improve the infrastructure?
[DOCUMENT] Failure to Act: Closing the Infrastructure Investment Gap for America's Economic Future