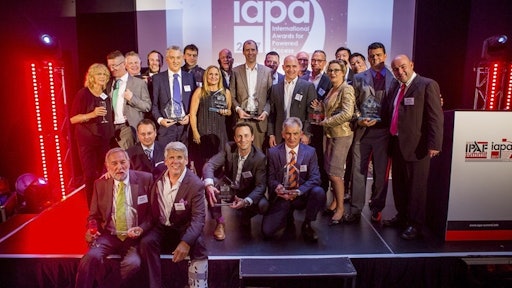 More than 450 industry professionals gathered on 4 April 2017 in London, UK, to honour the winners of the International Awards for Powered Access (IAPAs). Jointly organised by Access International and IPAF, the IAPAs celebrate best practice and excellence in the powered access industry.
The turnout was a record attendance for the annual awards event, the next edition of which will be held on 8 March 2018 at the Hilton Miami Downtown Hotel, FL, USA. The 2017 IAPA winners, and judges' comments, were as follows:
Access Rental Company of the Year
RIWAL, EUROPE/EURASIAThis company has a truly rounded approach which has helped it make great progress. It has also found time to be innovative with new technologies.
Powered Access Pioneer
ALO GROUP, CHILEConverting people from risky work methods to access platforms in a young market is no easy task. Alo has pioneered this in Chile through its innovative Day of Height and in working with colleges to add risk prevention in the curriculum.
Contribution to Safe Working at Height
MODERN (ACCESS) & SCAFFOLDING, HONG KONGModern has a track record in modernising working at height practices in Hong Kong, and continued to push forward last year, introducing lower level access and lifeline products to the market.
Product of the Year – Mast climbing work platforms/hoists
ALIMAK HEK'S MAMMOTH TRIPLEX SYSTEMThis is a fantastic three-in-one product, with a central materials hoist flanked either side by two high-speed passenger hoists. A massive hoist arrangement for demanding projects. Very impressive engineering.
Product of the Year – Self-propelled above 20ft/6.1m
TEUPEN'S PUMA 42GTXThe judges were excited by this product. Combining an all-terrain Menzi Muck excavator chassis with a Leo 40GTX boom demonstrated imagination and exceptional engineering skills. The result is a truly functional extreme off-road lift.
Product of the Year – Vehicle/trailer-mounted
CTE'S B-LIFT 17EWe were impressed with the innovative battery technology, which allows the platform to work for a considerable time without using the engine, combined with its ability to work in narrow spaces.
Project of the Year
SMART PLATFORM SOLUTIONS for its SEA LOCK MAINTENANCE SYSTEMThis was an ingenious solution to a demanding task. Smart Platforms should be commended for its 'outside the box' thinking.
Innovative Technology
SERIOUS LABS, CANADA, for the VRSL: AWP TRAINERThis virtual reality simulator brings to the access industry technology that has previously only been available in the military and aerospace industries. It offers a fantastic learning experience for operators.
IPAF Training Centre of the Year
MANLIFT, MIDDLE EAST & INDIAManlift grew its training numbers by 35% last year, offered courses in eight languages, and is playing a significant role in developing training in the Middle East and India.
IPAF Training Instructor of the Year
ANDERSON PUFF of MILLS, BRAZILAnderson Puff achieved a great deal in 2016. He promoted training to state authorities, major companies and also embraced eLearning techniques, demonstrating a remarkable work ethic.
Access Photograph of the Year (sponsored by Facelift)
ED DARWIN, NATIONWIDE PLATFORMS, for Platform Inspecting a GlosterThe photo shows a Versalift platform donated by Nationwide inspecting a replica of the Gloster E28/39 aircraft, located close to Nationwide's head office in Lutterworth and the first aircraft to use an engine designed by Frank Whittle, inventor of the turbojet.
IPAF/Access International Lifetime Achievement Award
ROGER BOWDEN, FOUNDER AND CHAIRMAN, NIFTYLIFT, UKIn the late 1960s Roger Bowden embarked on a five-year student-apprenticeship scheme at Brunel University, sponsored by John Laing Construction. He graduated in Mechanical Engineering and Production Technology in 1971 and went on to serve as chief engineer for EPL International, the JLC specialist hire company, before forming a one-man sales company in 1977, then a rental company in 1980.
In 1985, he went on to start the company that would define his career. That company is Niftylift; which has grown since then to 460 employees with operations in more than 40 countries around the world.
Roger Bowden is passionate about engineering education and has supported the development of hundreds of apprentices and undergraduate engineers at Niftylift, which is also a long-term sponsor of the Engineering Education Scheme, nurturing young engineers, and runs an Institution of Mechanical Engineers Development Scheme.
Between 2004 and 2011, he chaired IPAF's Manufacturer's Technical Committee and in 2006 received an Honorary Doctorate at Brunel University for services to Engineering.
The independent, impartial judging panel spent a full day considering the more than 100 entries received. The judges made decisions based on the merit of each entry and were excluded from entering their company for any award. The 2017 judges were:
Andy Studdert, CEO of NES Rentals and IPAF Immediate Past President;
Eline Oudenbroek, managing director of Holland Lift International;
Kai Schliephake, managing director of PartnerLift;
Mike Evans, consultant and a past winner of a Lifetime Achievement Award;
Rick Mustillo, founder of Kookaburra Equipment Sales and president of Australia's Elevating Work Platform Association;
Non-voting chair of judges: Euan Youdale, editor of Access International.
More event details are available at www.iapa-summit.info