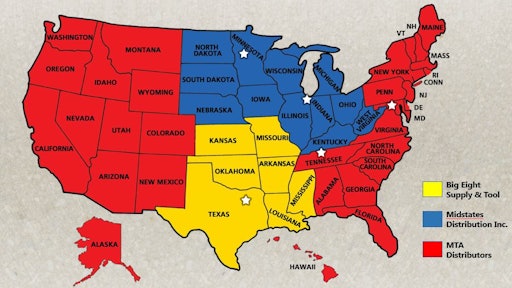 EDCO created a new distribution network specifically for independent rental businesses.
"Independent rental customers have been the backbone of EDCO's success since (our) first show in 1958," said EDCO Vice President of Operations Jason Stanczyk. "The best way to show our appreciation for independent rental's warmth is to help them be more successful, and make more money with EDCO products.  To do this, we have changed our sales model from direct sales to independent rental, to distribution. 
"We've partnered with three fantastic companies, MidStates Distribution Inc., or some customers may know them as Construction Product Sales; Big Eight Supply and Tool, also known as Trinity Equipment Solutions; and MTA Distributors, a long time ARA member. All have years of EDCO product experience either by representing our products or distributing them on a smaller scale. This is a unique, educated, partnership that gives independent rental well over 100 years combined experience in the industry."
Stanczyk says EDCO's customers can look forward to:
Enhanced logistics with EDCO inventory now strategically located within your region
Lower shipping costs and pick up options
Expert application diagnosis and technical advice
Local access to trained representatives who teach the profitability of EDCO products
The same high level of support from EDCO online, over the phone, and in person
The same pricing structure as before
For 60 years, EDCO has shipped from its single, Frederick, MD, location. The new partners put EDCO machines and accessories closer to shared rental customers.
"Midstates is stocking EDCO in both Chicago and Minnesota. Big Eight Supply and Tool has EDCO in Dallas. MTA stocks us in Nashville," said Stanczyk. "At no point ever before has this much EDCO been readily available. Because of these companies, lead times will be less, meaning shared customers will get product when they want it."
The new network's support benefits are available to rental with no immediate hange in pricing structures.
"Prices are the same has it was before distribution," said Stanczyk. "Moving forward, we will all work together to figure out fair pricing throughout the country.
EDCO's new distribution partners include:
Midstates Distribution Inc.
MDI's sister company Construction Product Sales (CPS) has represented EDCO for 15 years. MDI is eager to service EDCO customers in their new distribution business.
midstatesdistributioninc@gmail.com
844-634-3478
States Represented:  ND, SD, NE, MN, IA, WI, IL, IN, MI, OH, KY, WV
MTA Distributors
For 40 years MTA has been a leading distributor of equipment and parts to the rental industry and construction markets. They now offer and support EDCO products.
800-264-0225
States Represented:  AL, AK, AZ, CA, CO, CT, DC, DE, FL, GA, HI, ID, MA, MD, ME, MT, NC, NH, NJ, NM, NV, NY, OR, PA, RI, SC, TN, UT, VA, VT, WA, WY
Big Eight Supply & Tool
An affiliate of EDCO's long-time representative group, Trinity Equipment Solutions. Big Eight will begin distributing EDCO in January 2019.
972-792-8183
States Represented:  MS, LA, AR, MO, KS, OK, TX
EDCO and these partners are working together to make this transition smooth and seamless for you, our shared customer. EDCO has provided your region's distributor with a large volume of product and these firms are beginning to help advance EDCO's renown quality and service.
Please use this link on edcoinc.com to define the best way your company can purchase EDCO.