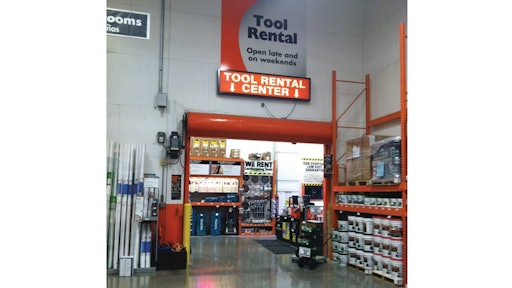 Home Depot's tool rental business soared with professionals in recent years, but executives say there's room for further growth.
"We know 90% of pros rent tools, but several years ago, only about one out of 10 pros rented from us," Craig Menear, Home Depot's chief executive, said on the earnings call, according to a FactSet transcript. "Today, that number has improved to one out of four, yet there remains opportunity for further growth as we continue to invest in our tool rental experience."
Home Depot said it has "the largest number of tool rental centers in North America" with about 1,100 locations in its stores.
"We know that when Pros start renting tools from us, they see a significant uptick in their overall Home Depot spend," said Ted Decker, Home Depot executive vice president of merchandising. "As part of our multi-year investment plan we are investing in more space, more tools and better technology to improve the customer experience and continue to grow this differentiated service offering."
(more on Home Depot's rental strategy . . . )