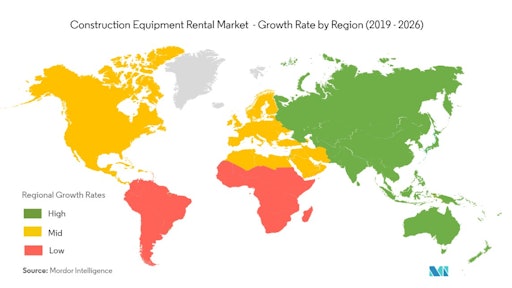 According to the "Construction Equipment Rental Market - Growth, Trends, and Forecast (2020-2025)" report conducted and produced by Mordor Intelligence, the global equipment rental market will reach $174.52 billion by 2026. The report notes major factors that are driving and restricting the market's growth trajectory as: 
Overall construction industry growth, especially in developing countries, including in residential and non-residential sectors, as well as infrastructure needs for a growing population and increased urbanization.
Automation (as a growth driver)
Emissions regulations (as a growth inhibitor)
Key Market Trends 
Mordor Intelligence's report highlights the excavators sub-segment as a dominate earthmoving equipment segment for the rental market with crawler excavators occupying the majority of the segment at approximately 70% due to lower cost and higher stability for digging operations on rough or uneven terrain. 
However, the operating cost of wheeled excavators have been less compared to that of crawler excavators, as the wearing out of crawlers' undercarriages and their replacing or refurbishing are an expensive and time-consuming task. Thus, some regions have started to adopt wheeled excavators in construction projects since 2010.
Europe ranks the highest in the usage of wheeled excavators compared to the United States. As most of the work done in Europe takes place in urbanized areas, while in the United States work projects majorly included clearing land and digging.
With growing infrastructure developments across the globe, the need for excavators was evident in almost every construction project. Thus, many rental companies across the globe continuously invest in purchasing new excavators to keep the average age of its excavator fleet at a potential of 2 to 3 years to satisfy a wide customer demand who are looking for advanced and efficient excavators.