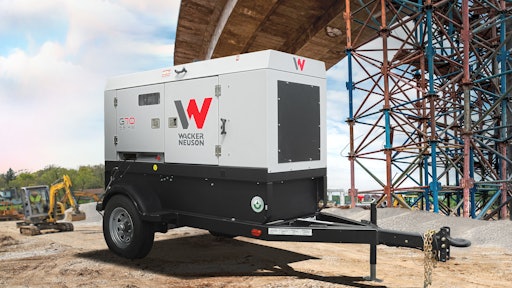 Wacker Neuson
Rising gas prices, supply chain pressure, a tight labor market, increased regulations—what do these items have in common?
All areas of concern within the rental industry, together, these factors are driving the power equipment sector toward change.
"Customers are willing to look at other solutions because they're realizing the solutions they rely on are not available or are no longer meeting their needs," says Ryan Crampton, sustainability and innovations manager for Sunbelt Rentals.
Power generation experts from Sunbelt Rentals, Generac Mobile Products, HIPOWER SYSTEMS, Wacker Neuson and Atlas Copco weigh in on the latest trends and shed some light on where the power generation industry is going.
The Trends
1. Alternative Energy Sources
Buzzwords among companies, sustainability and "being green" often refer to incorporating alternate fuels and renewable energy sources such as wind, solar and battery power.
Aaron LaCroix, product manager of mobile energy at Generac Mobile Products North America, says rising cost of fuels, increased emissions regulations and higher pressure on companies to make sustainability pledges have driven the trend toward alternative power options.
Maarten Vermeiren, product marketing manager of sustainability and digitalization for Atlas Copco, agrees.
"We need to change the way we think. It's not only to safeguard the planet, but we also have influences like the next generation of employees who are very aware of what's going on," Vermeiren says. "It's not us sitting in the comfortable seats anymore. It's (potential employees), and they are selecting the best employer, so if you have something to do with diesel, it's already a point against you. Yes, sustainability is a huge trend that is a buzzword. Are we there? Not yet, but the road map and portfolio are set."
Vermeiren notes that the power segment is starting to shift from diesel to electrification, and down the road, hydrogen will become a factor as well.
"If there is electricity available, it's a no-brainer," Vermeiren adds. "For diesel versus electric, it's the efficiency of the combustion engine itself. The combustion engine has been around for more than 100 years, and the setup has not changed. You turn, on average, one-third (of its power) into mechanical energy, and you lose two-thirds in heat. The electric motor, on the other hand, reaches 80 to 90 percent efficiency."
While some end users scoff at the idea of electric or battery power, they often come around after hearing about the savings or being subject to new regulations, says Barbara Gregorio, product marketing manager for new energies of the power and flow division at Atlas Copco.
"In some cases, customers say 'no way' to hybrid or battery power, but after two or three months, they come and knock on our doors saying, 'now I have my end customers requesting me to use alternative energy sources,'" Gregorio says. "I think that customers also need time to get there. Step by step. Not all of us are early adopters, but society and the environmental concept of a green mind will bring us there."
2. Hybrid Systems
In cases where completely eliminating diesel is not feasible, hybrid systems and energy storage systems come in to play.
"Energy storage systems can work independently or they can work in a hybrid mode for the generator," says Mark Wilton, director of sales—power and HVAC at Sunbelt Rentals. "That can improve performance and reduce emissions."
Users can implement the battery storage to power the load for some time with lower load conditions, and the generator then turns on to recharge the batteries and helps supply power for those peak loads.
"This is something that works well with a diesel generator on the worksite," LaCroix says. "You're going to see a gradual move toward these sustainable options, and the merging of this technology allows users to be smarter about how the products are used and how they work together to be even more efficient for powering the worksite."
Gregorio notes that working with a hybrid solution not only saves on fuel and reduces carbon dioxide emissions, but it also increases the health of the genset.
"They can stand much more demanding applications with low cycles that means like lifespan," Gregorio says. "For example, 7,000 cycles can mean 30 years of life of one machine in great conditions, so the resale value becomes very important for those rental customers that are moving to the second life selling of machinery."
Crampton agrees that a mix-and-match approach to power sources will become popular.
"There are a lot of different solutions, but what's the leading solution? How can we mix in other sources?" Crampton says. "Companies are trying to broaden their sustainability side and mix in a lot of these alternative sources. It's about having that right mix."
3. Connectivity
As technology becomes more sophisticated, data collection and management propel decision-making for rental companies and their customers.
"We can use that data for not only optimizing the solution itself, but then we can offer our customers reporting by tracking carbon output, run time and noise or whether they are meeting their requirements from their contractors," Crampton says. "They don't just want to see (the savings) on the quote. They want to keep track throughout the project and know how they have improved."
For some time, LaCroix says it was just about monitoring the basics: location, run time, fuel usage. However, now data collection also revolves around how machines are used, what kind of loads they are carrying, maintenance intervals and more.
"You can get predictive analytics developed from that data," LaCroix says. "It's about being able to resolve problems easily and remotely, so you don't always have to send a technician out to the field when there is a problem. You can just instruct the end user on how to resolve that."
Applying connectivity to rental applications is not all that much of a leap, according to LaCroix.
"Everybody has a smartphone these days where you're connected in some way to other people," LaCroix says. "It's the same with equipment for large companies that have large fleets to manage. They are making use of that mobile communication to monitor their equipment. We will see a greater emphasis on that telematics capability and see that filtering down to smaller units as the technology advances, becomes more affordable and easier to implement."
4. Serviceability
Easy maintenance and use have proven to be another big talking point among end customers, LaCroix says.
"It has become more difficult to find skilled technicians to maintain equipment, and also, wages are going up, so it's about whatever can be done to simplify that maintenance, make it easier to troubleshoot, diagnose and complete so that technicians are spending less time servicing it and trying to fix repairs," LaCroix says.
For customers who opt to change from one power solution to another—for example, from diesel fuel to battery power—many companies work to keep the interface and control systems the same, so there is less mental strain on the operator.
5. Load Management Systems
Diesel power and improper proper load management pose the risk for wet stacking, according to LaCroix.
"Tier Four final diesel emission requirements are in effect for all new generators, and that's led to updates to product design," LaCroix says. "When you have these generators subjected to low load conditions, where they might require heavy loads during a very short period of time, but then they are underloaded, that underloading can result in wet stacking, where the components clog and result in machines shutdown. Customers want to make certain these machines are going to work and work all the time. So you're seeing this new desire for load management systems that will alleviate that."
John Dotto, product application and training specialist, Wacker Neuson, also warns of the dangers of underloading.
"Modern diesel engine aftertreatment systems need heat to work properly. On a mobile generator, the amount of work you ask the engine to do, thus creating heat, is dependent on the amount of power you are putting out to the consumer," Dotto says. "In an underloaded condition, a system that does not get hot enough for the aftertreatment system to work properly will inevitably create wet stacking. Underloading is one of those root causes, but it's really the issue of maintaining proper temperatures for optimal performance of the aftertreatment system elements that will greatly improve engine performance."
Additional Trends To Look Out For
Mobile Generators
"What we are seeing right now is mobile equipment. Before, it was much more standby for emergency use, but now it's about the equipment being right here, right now. Some users can't wait for the permanent installation of a unit, so they will just rent the unit so they can have whatever they need right now."
— Rino Sbriglia, vice president of sales and client experience for HIPOWER SYSTEMS
Paralleling Generators
"Paralleling generators means putting two or more generators in sequence. It's important to call that power management mode. It has a customer benefit of performance of the equipment while in use, and it can significantly reduce diesel burn. So that means not only are we producing less emissions, but we're also being more efficient with our energy usage. That means we're less often now repairing equipment, which means techs are less on-site."
— Mark Wilton, director of sales—power and HVAC at Sunbelt Rentals