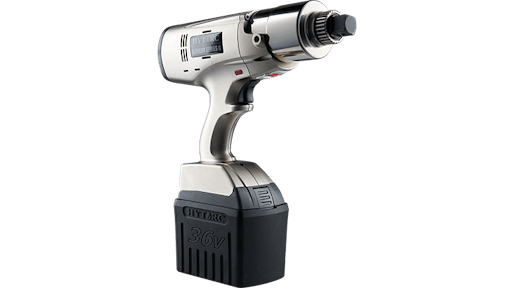 HYTORC
HYTORC announced that it has received the winning honor in the 2019 Pro Tools Innovation Awards (PTIA) Cordless Specialty Drills/Drivers category for its Lithium Series II Tool.
A panel of judges made up of contractors, construction business owners, tradesmen and media professionals from across the US came together to vote on entries submitted by top global manufacturers. 
After looking through and judging hundreds of power tools, hand tools, fasteners and accessories, winners were chosen based on industry innovation. Winners consistently demonstrated achievement in any combination of the following: innovative features, advanced power delivery, groundbreaking ergonomics, technological advancements and value. The 2019 Pro Tool Innovation Awards recognize best-in-class products that are truly ahead of their time.
The LITHIUM SERIES II Tool features TorcSense™ Technology, an all-new method of direct torque measurement and closed loop control to provide more repeatable bolting performance. The tool has a new brushless 36V motor coupled with a more robust gearbox optimized to deliver increased strength and control in heavy industry applications. The User Interface has been redesigned from the ground up to provide intuitive access to all software-controlled bolting features through the high-resolution display and push button control panel. The Lithium Series II Tool also contains a wide array of data acquisition and advanced bolting features that set the standard for next generation bolting.
A list of the improvements with greater durability, expanded functionality and intuitive usability:
TorcSense Technology to improve bolting control and repeatability.
Brushless 36V motor than runs quieter and more efficiently
All-aluminum nickel plated handle and gearbox provides greater corrosion resistance.
Dual speed gearboxes are 20 percent stronger for greater reliability.
High resolution display clearly presents all bolting parameters.
Rear cover shock guard protects the display and buttons.
Trigger and directional switch designs improve ergonomics and increase reliability.
Bluetooth Wireless Technology allows wireless data transfer and firmware updates.
Work light illuminates the operation area increasing safety and productivity.
Snug feature helps bring bolting surfaces into alignment.
Advanced bolting features include Turn Angle, Torque Check and Rotations.
Hierarchy of access levels provides greater administrative control over tool functions.
Available with output up to 5,000 foot-pounds, supporting a wider range of applications.