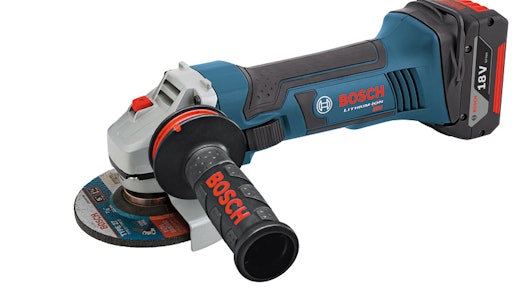 Robert Bosch Tool Corporation has rolled out a lineup of small angle grinders. This updated portfolio of corded and cordless angle grinders combines best-in-class performance and overall tool lifetime with ergonomic design, including a re-engineering of paddle-grip switches. At their core, all of the grinders in this series have two things in common: advanced performance and durability.
Powerful new motors, extending from 10- and 13-amp models to 18V.
Many of the grinders are now the most durable, combining longer carbon brush lifetimes, stronger motors, direct cooling and motor overload protection.
Longer multi-grip paddle switches allow users to grip the grinders in virtually any position along the ergonomic barrel. This design change also ensures the tool's air inlets aren't obstructed by hands.
The 18V cordless grinders (GWS18V-50 and GWS18V-45) models features powerful four-pole motors.
The Bosch-exclusive Electronic Motor Protection (EMP) and Electronic Cell Protection (ECP); these cordless tools last longer while providing flexibility.
Bosch Small Angle Grinders
GWS13-60 - 6-inch angle grinder featuring 13-amps and 9,300-rpm
GWS13-50 - 5-inch angle grinder featuring 13-amps and 11,500-rpm
GWS10-45 - 4.5-inch angle grinder featuring 10-amps and 11,500-rpm
GWS18V-50 - Cordless 18V 5-inch angle grinder featuring 10,000-rpm and four-pole motor
GWS18V-45 - Cordless 18V 4.5-inch angle grinder featuring 10,000-rpm and four-pole motor
Request More Information
Fill out the form below to request more information about
Bosch Enhances Corded, Cordless Grinder Portfolio