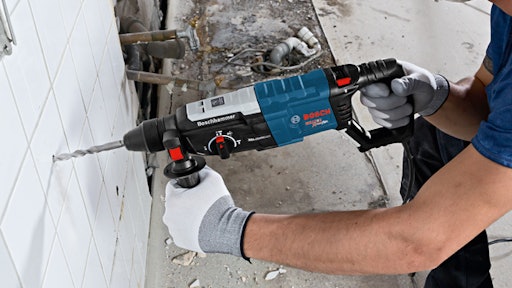 The Bosch GBH2-28L rotary hammer merits its place in the long line of legendary Bosch Bulldogs. It weighs only 6.9 lbs., yet delivers impact energy of 5,100 no-load bpm (blasts per minute) and 0-1,300 no-load rpm for drilling and chipping in masonry and concrete. The 1-1/8 in. diameter drilling capacity combines with three operation modes – drilling only, hammer drilling and chiseling – to ensure the Bosch GBH2-28L is ready to take on a variety of jobs, both big and small.
Bosch-exclusive KickBack Control is activated when there's an unexpected bind-up situation, which the rotary hammer will immediately shut off to reduce dangerous tool kickback.
Additional user protection features includes vibration control, a counter-balance system that moves in the opposite director of the striker to optimize hammer action.
An overload clutch is included on all Bosch rotary hammers. In an overload situation the tool remains in operation, but the clutch disengages to prevent dangerous torque movement.
To accommodate optimized chiseling, the Bosch GBH2-28L includes Vario-Lock positioning that allows the user to rotate and lock a chisel into the best working angle. The multi-function selector makes it easy to switch the modes for drilling only, hammer drilling and chiseling.
The rotary hammer has a variable-speed reversing trigger for accurate bit starting to enhance productive. It has a hammer hook that offers quick tool storage during the job. And the ergonomic D-handle design is ideal for both overhead and downward drilling applications.
For U.S. users, this tool should be used in accordance to the OSHA silica regulations designed to limit silica dust exposure.
Request More Information
Fill out the form below to request more information about
Bosch GBH2-28L 1-1/8" Bulldog Xtreme Max SDS-plus Rotary Hammer