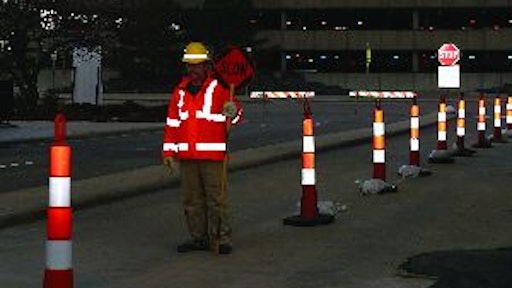 As more work is performed at night or on roadways open to traffic, the risks to highway workers climbs. According to the National Safety Council, in 2006, more than 1,000 workers were killed and over 37,000 injured as a result of struck-by accidents.
"We know, based on well-known studies, that a portion of these were linked to low visibility," says Gary Pearson, marketing department manager, 3M.
Worker visibility has been brought to the forefront with the Federal Highway Mandate, which has a November 2008 compliance deadline. According to 23 CFR Part 634, all workers in the right-of-way of a Federal-aid highway who are exposed to traffic or to construction equipment must wear high-visibility safety apparel meeting ANSI/ISEA 107-2004 Performance Class 2 (covers the torso) or 3 (covers the torso, arms and legs) requirements.
Worker visibility is also highlighted in a proposed amendment to the Manual on Uniform Traffic Control Devices, 2009 Edition. It would require the same level of high-visibility apparel cited above for all workers exposed to traffic or construction equipment while working on public access highways.
"The scientific and industry research communities have established that low visibility is an occupational hazard," says Pearson. "And the fatality/injury statistics are still too high. Low visibility is a risk, and it needs to be addressed."
Variety in visibility
When it comes to safety apparel, safety vests are typically the first garments that come to mind. However, there are many options available. Manufacturers offer garments that range from T-shirts and sweatshirts to jackets, parkas, pants and rain gear. There are also materials to accommodate workers in a variety of climates, such as ultra-lightweight knit fabrics or materials that accelerate body moisture evaporation in warm weather areas.
Before making any final apparel decisions, consider style, job requirements and season, advises Pearson. The key is to select apparel that offers optimum visibility and comfort in daytime, low light and nighttime conditions.
You can assess your needs by referring to Appendix B of ANSI/ISEA 107-2004 for Performance Class Guidelines based on work zone conditions. (Visit www.safetyequipment.org/hivisstd.htm.) Certain jobs will require varying degrees of reflective material. For example, a flagger working closest to traffic should use Performance Class 3 apparel to draw motorists' attention.
"If you're in high heat, wear a reflective lightweight shirt," Pearson suggests. "If it's cool, add a sweatshirt; colder still, consider jackets and parkas. If it's raining, get a rain jacket, etc.
"Apparel is a big word," he continues. "There's more to it than a safety vest. You do have choices. Innovative materials are being fashioned into an expanded variety of worker garments, including short- or long-sleeved shirts, shorts, gloves, headgear, jackets and parkas that provide enhanced visibility in low light conditions ? as well as maximize comfort ? even after frequent launderings. These options make it easier than ever to move beyond the vest and select the right garments for the job."
Shed a little light
With an increase in the number of night jobs, artificial light becomes crucial to ensure motorists can readily see workers, and workers can readily see the required task. The biggest concern associated with night lighting is glare, some of which can be annoying or even disabling.
One factor that affects glare is light placement. "If you have a higher light source, like a light tower, and deploy it to a full 30 ft., the light comes down from above. It will be out of the direct vision of the workers, so they don't look right into it, which can be blinding," says Rus Warner, product marketing manager, lighting systems, Doosan Infracore Portable Power. "Having the light source up high is an advantage."
Glare is also influenced by the angle of the light. Since terrain, obstacles, etc. can affect lighting, experiment with different angles to avoid aiming it into oncoming traffic or workers' line of sight. "You can blind motorists and they won't be able to see you, or see where to follow the traffic pattern," Warner says.
Also consider the reflective properties of the surfaces within the work area. "Wet asphalt will diffuse light differently than dry asphalt," Warner explains. "You will also want to consider glare coming from mirrors, vehicles, etc."
Manufacturers offer glare shields to help focus the light. Balloon lights, which provide glare-free lighting, are also an option. They are even being required by some state DOTs for certain jobs. These lights are flexible and highly portable, making them well suited for stationary lighting or mounting on equipment such as pavers. However, they do require a generator or other power source.
While balloon lights are becoming very popular, diesel-powered light towers are still the mainstay in the industry.
"They've been around for a long time and they're extremely versatile and mobile," says Warner. "Since they have their own engine, they're completely self contained. Plus, they can typically run for a long time unassisted. You can park them and they can run over a weekend to provide long-term light. If you select the right light, it won't add to the danger on a jobsite."
Prepare for Roadside Safety
The U.S. Department of Transportation and the Federal Highway Administration (FHA) have outlined guidelines for several aspects of safe roadway construction zones, as well as some of the methods used to achieve it. They include high-visibility apparel; worker training; activity area planning; speed control; positive separation from traffic; lighting; worker safety planning; and special devices (rumble strips, etc.).
The FHA's Manual on Uniform Traffic Control Devices is also a resource for defining the standards for installing and maintaining traffic control devices on streets and highways to create proper warning, transition, buffer and termination zones. "When a motorist is traveling at 60 mph, he or she only has a second or two to recognize and react to roadway construction work zones," says Paul Satti, technical director, Construction Safety Council. "It's important that the contractor use standardized signs, markings and symbols to send a clear, positive message to motorists to get and command the respect of road users."
To maximize roadway construction zone safety, OSHA 1926.32 standards, paragraph F indicates that a competent person must be assigned who is capable of identifying existing and predictable hazards, and surroundings or working conditions that are unsanitary, hazardous or dangerous to employees, and who has authorization to take prompt corrective measures to eliminate them.
"Basically, he or she is the person who leads and manages work for that site," Satti says. "And most importantly, that person has to have the authority to take action. For example, if someone comes on the site without the appropriate garment, that person has the authorization to remove them."
Companies in this article