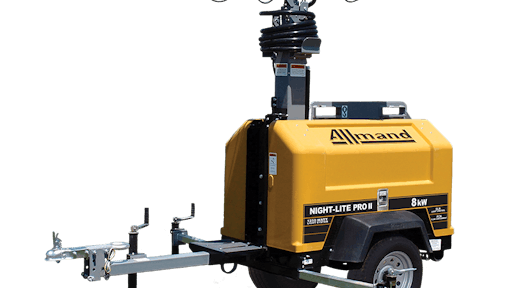 From an oil field to road construction, safety is key on any jobsite, not only to the safety of the workers but also to anyone who might come in contact with the jobsite. One of the most critical choices on a jobsite is the products you choose to have your team use every day. When it comes to light, this choice can make the difference between a safe and productive work zone and a night of wasted time and resources. The reliability of the product is essential to ensure a productive night of work.
Any interaction point between a light tower and the operator needs to take safety into consideration. The most active touch points such as a winch, outriggers, fuel tank and control panels should be evaluated when choosing the right light tower for the safety of a jobsite.
The winch and outriggers are the heavily used features of a light tower. Proper set up and tear down of a piece of equipment is required to set the jobsite up for success. Some products are designed with the user in mind, meaning the placement of the winch is away from the actual tower. In the case of outriggers, some equipment manufacturers offer a four- or five-point stabilizer system to allow a light tower to remain operational in wind gusts of up to 65 miles per hour. This precaution ensures the product won't be blown over, causing damage to itself, other equipment, or even bystanders. This is very important and should be carefully considered on a jobsite. 
Fuel capacity is another feature that is important when selecting a light tower. Many jobsites are large or in remote locations and need light towers placed in hard-to-access areas. With this in mind, it's beneficial for a light tower to have a larger fuel capacity to reduce the number of times a fuel truck has to service it. There are a few manufacturers who offer products with up to 100 gallons of fuel capacity. This allows the light tower to operate for extended periods before needing to be refueled. Minimized touch points and reduced service time result in cost savings that can add up quickly, especially on large and remote jobsites.
Of course the output of light provides a safe work environment and needs to be monitored to ensure safety for all of those around a jobsite. Light shined into a person eyes is going to cause glare. There are products which offer angle settings to avoid the direct use of the light, or visor shields which can shield some of the light from passers-by, while still providing adequate light to illuminate the jobsite.
Protecting the environment is always a concern as well, not only for the environment itself but for the operator's bottom line. Fines and clean-up costs for even the simplest oil or fuel spill can quickly claim any profit from a job. Fluid containment systems of at least 110% of the fuel and crankcase oil in the light tower can help prevent spills, the need for clean-up and any resulting environmental damage expenses.
Overall, the safety of a jobsite is critical to its success. The opportunity to evaluate products based on their design features is the key decision point for any team. Light towers continue to be designed with ease of use and safety in mind, which will benefit the jobsite workers and any bystanders.  
Information provided by Allmand Bros.