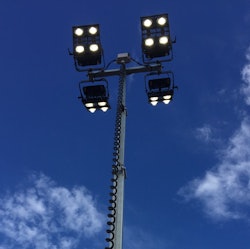 Chicago Pneumatic Power Technique
Mainstays of just about any construction site are the products that keep the area lit. Light towers are simply must-haves for any project that calls for crews to work before dawn or after dusk. And while it may appear as an afterthought of the jobsite, choosing the right light towers requires some thought to maximize their usefulness.
When it comes to choosing a power source for jobsite lighting, it is important to consider which energy source can help crews get the most out of their workday, contribute to a healthier work environment and fit within the project's budget. While diesel has traditionally been a common power source for light towers, propane offers construction professionals a number of benefits, including convenience, reduced emissions and cost savings. 
Portable and Readily Available Resource
Jobsites can vary widely, which is why construction professionals need an energy source with true portability and versatility. Fortunately, propane is portable and readily available across the country, which is great for sites that aren't yet connected to utilities or are located beyond the reach of natural gas. Propane can be stored on site or delivered by a local propane supplier, so the energy source is always there when crews need it.
In fact, propane being a readily available energy source is one of the reasons it was chosen as a backup fuel for Magnum Power Products'  Solar Hybrid Light Tower. The unit, which carries two 33.5-lb. propane cylinders, is suited for residential, commercial and industrial jobsites. The light tower requires little maintenance, offers low fuel consumption and can be operated unattended thanks to its seven-day programmable timer.
Beyond bringing light to a jobsite, propane-powered applications also provide crews with reliable performance, even in rainy, damp and cold weather conditions. Additionally, propane can be a one-fuel solution for crews, as it can power multiple types of construction equipment. Propane commonly powers jobsite heaters, portable generators, power buggies, scissor lifts, concrete trowels, concrete grinders and polishers and more.
Environmentally-friendly Energy Source
Traditionally, the construction industry has had a widespread use of diesel equipment on jobsites, attracting attention from health and environmental advocates in recent years. In an effort to meet environmental regulations, improve air quality for crews and reduce urban air pollution, crews are seeking clean, environmentally-friendly energy for their jobsite equipment.  
Propane is a low-carbon energy source that can produce significantly lower greenhouse gas, nitrogen oxide (NOx) and sulfur oxide (SOx) emissions than diesel, gasoline and electricity in a wide range of jobsite applications. Propane is also an approved clean alternative fuel under the Clean Air Act of 1990. Its environmentally-friendly characteristics were yet another reason Magnum Power Products chose it as backup for its Solar Hybrid Light Tower, according to Dave McAllister, vice president of business development.
Cost Savings Over Diesel
Statistically, 85% of construction projects overrun their budgets. With that in mind, it's important for crews to reduce and control costs where they can. Fortunately, operating propane-powered equipment can help crews save on maintenance and fuel costs.
For example, the Solar Hybrid Light Tower offers significant operational savings over diesel models. If operated 10 hours a day, seven days a week, the unit would consume approximately $16 of propane per week, compared with $122 of diesel — stacking up to savings of roughly $5,800 per year.
Propane offers crews a long-term solution to the price fluctuations of traditional fuels like gasoline and diesel because it is a product of both natural gas and petroleum, and the price for propane falls between the price of the two fuels. Additionally, the majority of the propane supply used in the U.S. is produced in North America, providing cost stability even when the global fuel markets fluctuate. Crews can further protect themselves from market fluctuations by securing a fuel contract with their local propane supplier. 
To learn more about propane jobsite applications, such as light towers, visit Propane.com.
Matt McDonald is the director of off-road business development for the Propane Education & Research Council. He can be reached at matt.mcdonald@propane.com.