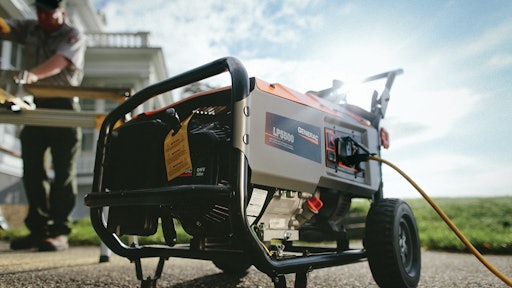 Propane Education & Research Council
For years, gasoline and diesel were cemented in the construction industry as the fuels to power equipment and vehicles, and electric equipment was seen as the primary option for indoor concrete work. But concrete contractors have likely seen another fuel showing up as an option in dealerships and rental businesses — propane. 
While it can seem easier to stick with the status quo rather than take a chance on different equipment, contractors who make the switch to propane equipment can see long-term benefits compared to using gasoline and diesel equipment, particularly as the construction industry as a whole adapts to sustainability trends such as reducing emissions. 
But there's a lot that goes into the decision to use new equipment, from the initial price tag to the total cost of ownership, including refueling, maintenance and fuel costs. Before deciding whether propane-powered construction equipment makes sense for their operation, contractors should take a closer look at the needs of their clients, requirements of their equipment and the types of jobsites on which they most often work.
The following questions can help concrete contractors better determine how propane could fit their operation. 
1. Do my clients require reduced emissions, or would reducing emissions help my business land bids?
Contractors considering propane light construction equipment should first take a look at their clients, both for current projects or for future opportunities. Companies or local governments that have sustainability plans or emissions-reduction goals may be more likely to seek out a contractor implementing green practices, such as using propane-powered light construction equipment. Consumers also are increasingly likely to spend more for sustainable or environmentally-friendly services, according to a Nielsen report released in 2018. 
Contractors can reach these green-minded customers by calling out the environmental advantages that propane has compared to other fuels. For example, equipment using propane produces fewer greenhouse gas and nitrogen oxide emissions than gasoline or diesel and reduces sulfur oxide emissions compared to electricity when factoring in source-to-site emissions. The fuel is also recognized by the EPA as a non-contaminant of soil, water and air — a great point to call out when bidding for projects near schools and neighborhoods where spills or emissions from gasoline or diesel equipment could impact children or residents. 
2. What equipment do I use that could be powered by propane?
It's likely that a contractor has encountered propane on a jobsite to fuel heaters and portable power generators. While those might be the most widely seen applications for propane, the amount of equipment that can be powered by propane has grown to encompass a wide range of light construction equipment. 
Now, contractors can find propane models for jobsite lighting and for concrete equipment, including riding trowels, grinders, polishers, floor strippers, dust extractors, shot blasters and concrete saws. The fuel can be used to efficiently move materials across sites with forklifts or wheel buggies or vertically with aerial lifts and small cranes. 
The types of light construction equipment powered by propane continues to grow as manufacturers incorporate propane in equipment lineups in response to demands for sustainability. Furthermore, brands that were once electric-only now offer engine-driven solutions powered by propane. This is in addition to the trend over the past couple years of manufacturers exploring options beyond diesel for light construction equipment. 
Contractors can take advantage of propane's benefits beyond light construction equipment, too, by using propane autogas in vehicle fleets. An increasing number of light- and medium-duty work trucks and vans can be converted to run on propane autogas, including chassis upfitted with dump bodies, cranes or box options. 
3. Do I frequently work in both indoor and outdoor environments?
For contractors with a diverse range of projects that frequently require equipment to be used indoors or outdoors, propane equipment is advantageous in several ways. For one, propane's emissions profile enables the fuel to be used both indoors (with proper ventilation) and outside. Along with reducing greenhouse gas emissions, propane light construction equipment produces fewer carbon monoxide emissions. 
Additionally, propane is a highly portable fuel. On sites that aren't yet connected to utilities or are located beyond the electrical grid, it enables work to be completed without the need to bring in an alternative power source for electric equipment. Using propane can reduce the number of potential trip hazards from electrical cables when operating several pieces of equipment at once, such as concrete grinders and vacuums. 
Contractors using propane also don't need to juggle multiple pieces of equipment when working on a site with both indoor and outdoor needs or moving between sites with different emissions requirements. This can help reduce costs in equipment rentals or upkeep and even increase daily crew productivity. 
4. What are my current refueling needs?
Contractors using diesel or gasoline may find that fuel is widely available at commercial refueling stations, but filling portable fuel containers each day can take time that can otherwise be spent on a jobsite. For contractors working on long-term construction projects, conventional fuels may also require additional precautions to store a bulk tank on site in order to prevent fuel leaks into soil and water. 
In comparison, propane offers contractors two convenient refueling options: a cylinder exchange program and on-site refueling tanks. With a cylinder exchange program, propane cylinders are typically stored in a cage either at a corporate location or on a jobsite. Contractors can work with a propane retailer to set a schedule to exchange empty cylinders with full ones for an easy, grab-and-go system for employees.​
For a larger scale application, a propane tank can be installed at a permanent location, or a portable propane tank can be set up on site for long-term projects. Propane fueling infrastructure is similar to gasoline and diesel, typically with fuel stored in above-ground tanks ranging from 1,000 to 30,000 gallons. 
Contractors considering propane equipment can find additional information on using propane-powered light construction equipment by visiting Propane.com/Propane-Products/Construction-Equipment. Additionally, the Contractor's Guide to Propane published by Concrete Contractor's sister publication, Equipment Today, is available online at ContractorsGuidetoPropane.com.  
Jeremy Wishart is the director of off-road business development for the Propane Education & Research Council. He can be reached at jeremy.wishart@propane.com.