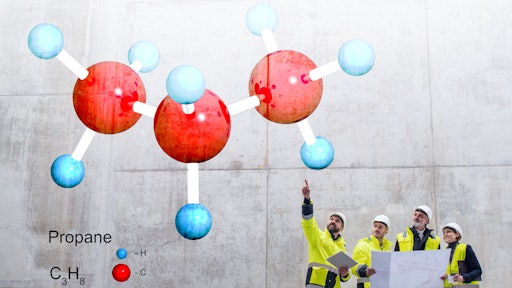 Adobe Stock Image | By Vasilyev Dmitry - Edited by April Van Etten
For concrete contractors, choosing the best jobsite equipment and energy sources to help them get the job done and maximize productivity is critical. A growing number of professionals are finding that propane helps check all the boxes important to them in an energy source. Propane-powered equipment stands out due to its safe, reliable, and clean operation. These operational benefits make it an ideal energy source for a wide variety of construction projects—and are a big reason for its growing popularity.
Steve Dodson, service manager at Refuse Materials Inc., a contractor based in Ocilla, Ga., started the switch to propane about 10 years ago. In more recent years it seems the concept began to gain traction with more companies in the concrete industry, seeing a noticeable shift over the past five years. 
Three Machines Powered by Propane That May Surprise You

1. Power Buggies. Propane's low emissions profile a major advantage on jobsites that include work indoors or in semi-enclosed spaces where emissions from gasoline or diesel would be dangerous for crews.

2. Power Concrete Trowels.  Some manufacturers have even added duel-fuel options with both propane and gasoline to allow for longer usage time between refueling in addition to flexible usage on projects with both indoor and outdoor concrete work.

3. Concrete Grinders & Polishers.  Propane-powered concrete grinders and polishers also allow cord-free operation, which can be an advantage on larger projects where there may be hundreds of feet between a machine and an electrical outlet, or in high-traffic areas where a cord can easily become a trip hazard.
Convenience & Ease of Operation for Crews
Propane is a highly portable energy source, allowing contractors to complete work without bringing in an alternative power source for electrical equipment. Propane's grid independence is especially beneficial for jobsites that aren't yet connected to utilities or are located off the grid entirely.
Not only does propane allow crews to work away from the grid or far from an outlet, but it also eliminates restrictions and safety hazards brought on by electric cords. Propane-powered equipment gives contractors more freedom of movement and, ultimately, allows work to be done faster and more efficiently.
The ease of operation that comes with propane equipment is critical. "Time is money in the construction world," says Dodson. It's a huge reason his crew of commercial flooring contractors prefers operating propane equipment.
"Electric [can be] binding between the length of power cords to having to wait on an electrician to drop power into our work area," he says. "Any time we have guys standing around waiting on someone else, it's costing us a lot of money. Propane makes it easy for our team to get mobilized and start work immediately when they step onto a jobsite." 
A Testimonial from a General Contractor: Barefoot Construction, Fla.
Environmentally Friendly
Using clean, low-emissions equipment is important for crews working on jobsites located in areas with strict emissions regulations or in residential areas concerned with air quality. According to Brian Delehaut, vice president at MK Diamond Products, one reason customers find value in having propane engines in their fleet has to do with the energy source's low environmental impact.
"Customers like propane because they feel that they are providing a greener solution, compared with using diesel or gasoline equipment," Delehaut says.
Deemed an approved clean alternative fuel by the Clean Air Act, propane produces significantly fewer emissions compared with other options, enabling it to be used both indoors (with proper ventilation) and outdoors — ultimately offering huge gains for crew productivity. Additionally, propane's clean, low-emissions profile is one reason more brands that were once electric-only are now offering engine-driven solutions powered by propane.
About the Author
Matt McDonald is the director of off-road business development for the Propane Education & Research Council. He can be reached at matt.mcdonald@propane.com. To learn more about the benefits of propane-powered equipment, visit Propane.com.