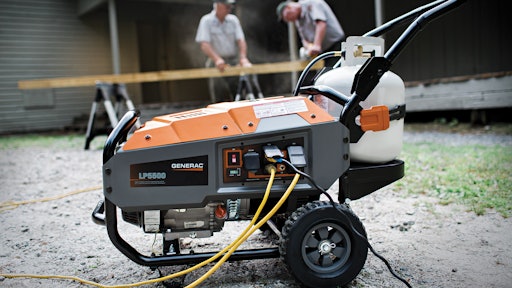 PERC
Business is booming for the generator rental market. Are you taking advantage? 
According to data from Transparency Market Research (TMR), the generator rental market had an annual total near $4 billion in 2016 with forecasted growth to over $7 billion by 2025.
As more customers come seeking power generation solutions, it's important for rental store owners to be well-versed in which options best suit their specific needs. Carrying and offering propane-powered generators will help rental store owners set themselves up for success and increase customer satisfaction because of the key advantages propane offers compared with other options. 
Most notably, propane offers crews a reliable, nonstop source of power in an industry where time is money — and it doesn't sacrifice sustainability in the process.  
Uninterrupted Power for Maximum Uptime 
Remote power on jobsites is a critical component, which is why construction crews require a power generation solution that can perform anytime, anywhere. This is especially important for crews working on jobsites located off the grid or not yet connected to the local power grid. Propane, because it's an independent and highly portable energy source, can supply power and energy resiliency to jobsites regardless of their location.  
Plus, propane is a stable, reliable energy source that can power everything from small, portable generators to large, towable generators. Propane's dependability and versatility allows rental customers to maximize productivity, run a self-sufficient jobsite, and ultimately, work with peace of mind.  
Better Adherence to Environmental Regulations 
A growing number of customers are facing increasingly stringent environmental regulations, meaning that clean, low-emissions jobsite equipment is in higher demand. Rental store owners can meet this need by offering propane-powered equipment, including generators.
Propane is a low-carbon energy source that produces significantly fewer emissions than diesel, gasoline, and electricity. Most notably, using propane produces 43 percent fewer greenhouse gas emissions than using an equivalent amount of electricity generated from the U.S. grid, according to data from the Propane Education & Research Council (PERC). Further, data from the Department of Energy (DOE) shows 16 percent greater carbon dioxide emissions per unit of energy for diesel compared with propane.
Additionally, the Clean Air Act qualifies propane as an approved clean alternative fuel. Propane can be stored on-site, either above or below ground, without risk of land or groundwater contamination. Diesel, on the other hand, has the potential for contamination from spills and leaks that are retained in the soil.