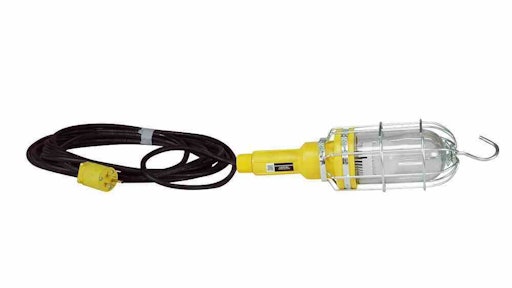 Larson Electronics has released an LED inspection hand/drop light with a colored LED light that is waterproof and vapor-proof. This unit is designed to prevent water and moisture from getting into the handle and head when used in wet locations. This light is available in blue, red, amber, green or white light outputs and 120-277V AC, 11V AC/DC, or 25V AC/DC configurations.
The hand lamp also features an LED that runs cooler than traditional metal halide and high-pressure sodium lights to provide greater energy efficiency and longer lamp life. 
1,050 lumens of light output
50,000 hours of operational life
50 ft. of 16/3 SOOW cable with an industrial cord cap
Features a rubberized, insulated handle with a stainless-steel wire guard enclosure to protect the glass dome
10-watt LED light
Operating temperature of 55˚F
Can operate on voltages ranging from 100V to 277V AC without modifications. Low-voltage 11V or 25V AC/DC options are available.
5 lb, 13 in. long by 4.5 in. in diameter for the head by 2 in. in diameter for the handle.