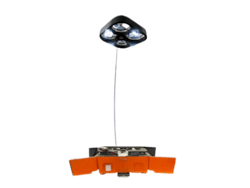 Blue Vigil

Blue Vigil, a developer of tethered power systems for commercial drones, featured its Autonomous Aerial LED (ALED) portable light product at CONEXPO 2023 in Las Vegas, Nevada. The drone light is aimed at making nighttime sites safer. The startup's portable light won the 2023 Innovation Award at the American Traffic Safety Services Association (ATSSA) trade show in Phoenix, Arizona.
"We are bringing major technological innovation to the $4.5B global light tower category," said Robert Schumann, CEO, Blue Vigil. "Currently, towed light towers are the de-facto standard for a majority of nighttime roadside, bridge, overpass and other horizontal construction sites. However, they do a poor job of illuminating work scenes due to the inherent limitation in the tower height and lack of flexibility in placement. We have a better, and safer, solution to answer what will soon become known as 'yesterday's problems.'"
Blue Vigil's ALED is a compact area lighting system that mounts a high-intensity LED array on a tethered Unmanned Aerial Vehicle (UAV), also known as a drone, positioning the light 40-ft. (12 m) up to 100-ft. (30.5 m) above a jobsite. The ALED puts over 8,000-sq.-ft. (743 sq m) of light on the ground. By illuminating a work zone from 40-ft. to 100-ft. above, light shines directly down onto the area of operation, without creating the dangerous glare and shadows that negatively affect workers, residential environments, wildlife and motorists.
"Illuminating a work area from directly above eliminates dangerous shadows or glare that create hazardous conditions for workers and motorists," said Schumann. "The ALED Portable Light will dramatically improve work zone safety and operational efficiency by putting more usable light on the ground where it's needed."
The ALED can be powered by wall or shore power, a portable 3000W generator or a common vehicle inverter.
The ALED is purpose-built and designed to withstand the rigors of use in the field and on construction sites. The all-weather light is enclosed in a rugged, person-portable wheeled case that can be positioned as needed. The base is 30-in. wide, 42-in. long and 24-in. in depth. Because it can be moved and positioned, it reduces the need to have heavy light towers stationed in areas where they aren't always needed.
Weighing 75-lbs. (34 kg), the product fits in a pickup or SUV and does not require a trailer or towing. Setting up is simple: position the unit, open the case and push one-button to raise the light into position.
Request More Information
Fill out the form below to request more information about
Blue Vigil Showcases ALED Portable Drone Light at CONEXPO