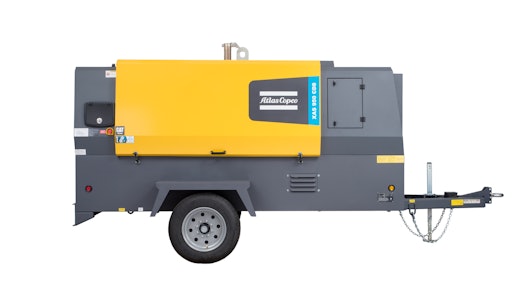 Atlas Copco's XAS 950 single-stage, oil-injected, rotary screw-type air compressor features pressure adjusted through cognitive electronics (PACE) technology to match engine speed, power and torque with air demand, resulting in fuel savings.

"The XAS 950 is built around the principals of pressure and flow. The focus of the unit is putting the controls in the operator's hands thanks to the innovation and unique performance management solution, PACE," Clayton Jones, product manager — portable air at Atlas Copco Power Technique. "This air compressor delivers better performance in a smaller and lighter package. We believe it will be a game changer. It was our first single axle design with this much volume and also is the first in the market. The new technology in the regulation system is what we are proud of and showcase in all of our product training."
Some of the main applications for the new compressor size is geothermal drilling, horizontal directional drilling, sandblasting and shotcrete.
"Being a single axle unit allows for towing the unit to jobsites and making logistics much easier," Jones says. "The pressure and flow range allow for multiple applications in one variant. The new regulation system known as PACE puts the operator in complete control of the unit and does the work on its own to be efficient in regards to energy and fuel savings. The PACE technology helps achieve 15% to 20% fuel savings. Additionally, PACE increases the operating range with the ability to cover multiple applications with a single compressor, increasing the unit's versatility."
The XAS 950 has variable flow and pressure settings through the PACE technology. This results in a wide range of pressure and flow settings such as 950 cfm at 100 psi, 900 cfm at 150 psi and 750 cfm at 200 psi.
"We feel we have put the customization in already, and it comes standard with the bells and whistles you might say. Items such as quality filters, after cooler and external fuel connections are built in. Although we still offer special items if needed such as skid mounted or a custom color," Jones adds.

"For the future sometimes it is tough to tell what will be the new game changer. Service is for sure at the forefront of technology. The less time the unit is down means more revenue as well as project completion. Footprint is the new request and how we can put as much energy into a light and small design. The machine is up to 33% lighter than competitor's compressors with similar output," Jones says.