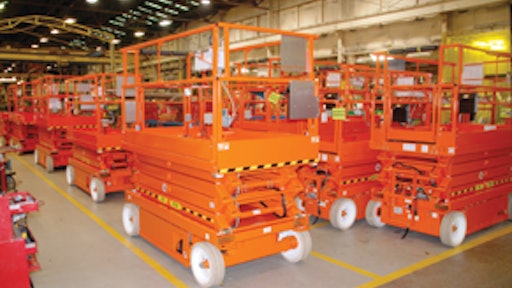 Oswestry, Shropshire, UK – Boels Rental, located in Sittard, the Netherlands, recently placed an order for an assortment of Skyjack Compact, Conventional and Rough Terrain scissor lifts. The 615 machine order is the largest to date to be added to the Boels fleet from the Skyjack product offering. Boels has 250 depots spanning eight countries.
"Skyjack's reliable product offering is ideally suited to the needs of our customers," said Ton Brockbernd said, Boels senior buyer. "We went for Skyjack because it is a quality product, that proved it self true the years in this market. And also because it is a robust, reliable machine that is easy to maintain, which is very important in rental. We purchased 210 3219s for our rental fleet last year and the equipment to date has lived up to it's solid, reliable reputation and low life cycle costs."
Skyjack's Compact Series Electric Scissor Lifts offer easy to service, low maintenance design in a compact and versatile package. Equipped with variable speed front wheel hydraulic drive, and 90° steering, both models in the Compact Series are capable of maneuvering in the smallest spaces. Featuring a 0,9 m roll out extension deck, these Compact Series models offer work heights up to 7,8 m and 30% gradeability.
The Narrow Conventional Series Electric Scissor Lifts offer high capacity and large platform areas, making them suitable for any on-slab application. Featuring variable speed rear wheel hydraulic drive, the SJIII 3220 and SJIII 3226 offer working heights up to 9,9 m and 30% gradeability. The lightest machines in their class, these models offer a standard 0,9 m roll out extension deck, and both models can be driven at full height. The SJIII 3220, boasting an industry-leading 363 kg capacity, can also access through standard doorways. The SJ 6826RT and SJ6832RT Rough Terrain Scissors come equipped with an exclusive cross over symmetrical 4WD system for superior traction. Featuring up to 50% gradeability, these machines can meet the needs of the most challanging job site terrain.
Skyjack's Managing Director Charlie Patterson noted, "We are delighted that Boels have again chosen Skyjack Scissor Lifts for use in their rental fleet across Europe. We are very proud of our products and pleased to be recognised for our strengths as being a supplier of solid reliable equipment built for the rental market."
Companies in this article