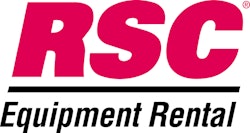 Scottsdale, AZ - RSC Holdings Inc., one of the largest equipment rental providers in North America, has announced that on September 30, 2011, in accordance with the Amended and Restated Stockholders Agreement, which governs, among other items, the nomination and election of the members of the Board of Directors, John R. Monsky resigned as a director of RSC Holdings Inc. and RSC Equipment Rental, Inc., effective immediately.
The Board also announced that seasoned veteran David T. Brown has been appointed to the company's board of directors, effective October 6, 2011, to fill the vacancy left by the resignation of Mr. Monsky.
For the entire story, click here.
Companies in this article