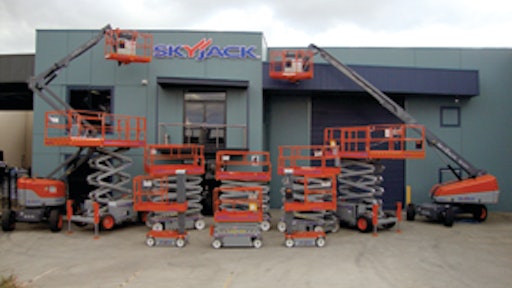 Guelph, Ontario, Canada -  Skyjack announces the official opening of its new
Australian facility. Based in Coates Place Wetherill Park, the largest industrial estate in the Southern hemisphere, Skyjack's new facility will consist of new modern premises with 100m2 of office space and 800m2 warehouse.
The facility is conveniently located just 35 km from Sydney CBD and situated on the M4/M7 corridor. Support for the new location will consist of a network of service engineers with independents and predominately Access Services covering the whole of Australia. Access services have 37 engineers on call 24 hours a day.
Heading up the facilities operation as national sales manager is Jason Cranmer. Jason has worked for Skyjack for the past six years and recently moved to Australia to set up the Pacific division of Skyjack. Jason has extensive industry experience, having previously served as sales manager for South UK and Ireland where he successfully grew the customer base for Skyjack.
"We are very excited and looking forward to expanding our business footprint and interests throughout the region," Skyjack Director of Operations for Europe and Asia Pacific Charlie Patterson noted. "Having a new facility located within Australia will greatly enhance our ability to grow and reach out to new customer opportunities."
Companies in this article