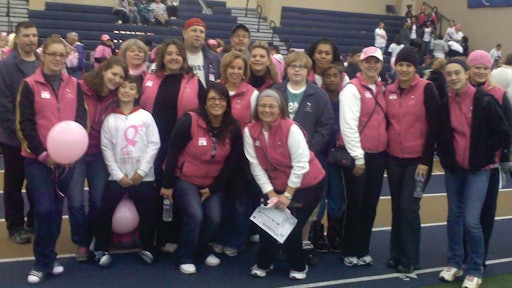 Paladin Construction Group, one of the industry's leading attachment and coupler manufacturers, recently joined the American Cancer Society's Making Strides Against Breast Cancer walk in an effort to raise money for breast cancer research, support and service programs for those that are facing the disease.
On Sunday, October 16, 2011 in Akron, OH, Paladin assembled team Digging For The Cure and raised more than $3,000. The team was comprised of industry professionals from Paladin, their families and their friends for a total of 31 registered participants. The Making Strides Against Breast Cancer walk is a powerful and inspiring event that unites communities to celebrate those who have battled breast cancer, raise awareness of breast cancer prevention techniques and raise funds to help find a cure. Breast cancer affects those outside of and within the construction industry and Paladin seized the opportunity to help make a difference.
"In effort to support our community members who have fought or are battling this life-changing and life-threatening disease, employees, family and friends supported team Digging For The Cure either by sponsoring, donating directly or participating in our bake sale," remarked Jennifer Fitzgerald, marketing communications manager for Paladin Construction Group. "We are proud to be a part of the nearly 7 million walkers who have raised over $400 million to fight breast cancer since 1993."