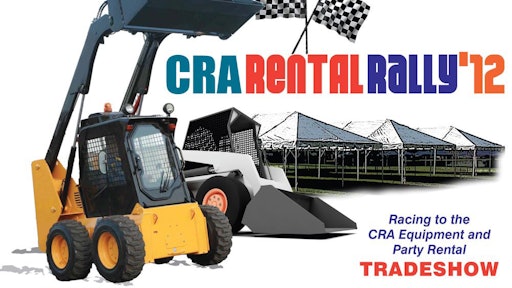 Over 130 booths and 229 attendees, the beautiful southern California weather holding out for the outdoor demo and digging areas, well-attended seminars and party round tables, and a great keynote speaker rounding out the event — it all added up to a successful Rental Rally Tradeshow for the California Rental Association.
CRA's RV Campout was held in conjunction with the tradeshow, with RV camping available at the show site, the Fairplex in Pomona. Twelve RVs and motor homes of many sizes and shapes attended the Campout. A vendor barbecue held during the show's set up, courtesy of master chef Bob Phares, was appreciated by all — not a crumb was left. The evening potluck on March 12 was fun for the RVers and others in attendance.
Other tradeshow vendors and attendees stayed at the onsite Fairplex Sheraton Hotel, which was sold out for the evenings of March 13 and 14. Tuesday's opening cocktail party and awards ceremony, held at the National Hot Rod Museum, also on the Fairplex grounds, had 200-plus in attendance.
Linda Bradley, former CRA board member and former rental company owner, was presented with the annual W.E. "Bud" Loeber Friendship Award in honor of the late Bud Loeber, a former CRA official known for his helpful attitude, humor and kind personality. James Jenkins, of Jenkins Insurance Group, was awarded the James Gartland Award, named for the founder of RER Magazine and given annually to a rental person or service provider in recognition of their contribution to the rental industry. The Gartland Award was presented by Michael Roth, editor of RER. The awards are well deserved by both recipients, who are known for their tireless contributions to CRA. The attendance at Wednesday's banquet and raffle, held at the Pomona Valley Mining Company, exceeded expectations with more than 225 people present.
The tradeshow featured well-received seminars and party round table discussions. Seminars included a "Commercial Vehicle Requirements" presentation by a CHP officer from the Commercial Vehicle unit and a "Theft Prevention" seminar by Lou Koven, with the Southern California Crime Prevention, and Gabe Marquez of the CHP Special Crime Investigation unit. Party round tables discussed the topics of "Web & Marketing" with David Dworshack and Tom Mantyla and "Operational Topics" (tent permits, lighting, re-rents, delivery and pickup, setup and knockdown, GPS systems, and more) with Patricia Sarris and Steve Garcia.
Keynote speaker John Tillison spoke of being "Blindsided" in business and what it takes to continue in business in an inspirational, comical and challenging way.