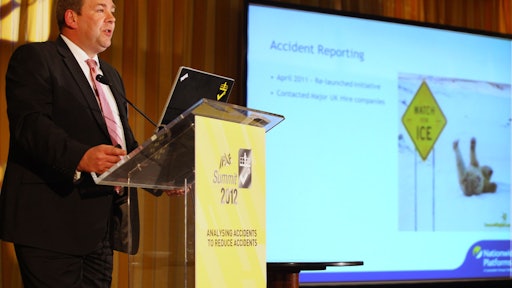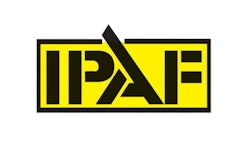 Accident reporting should be made mandatory for IPAF members, said Peter Douglas, executive director of operations at Nationwide Platforms, one of the largest access rental companies in the UK, speaking at the IPAF Summit on March 29 in Rome, Italy.
Peter Douglas made a strong case for accident reporting as a key initiative for IPAF, whose mission is to promote the safe and effective use of powered access worldwide.
"If IPAF was going to have an initiative, this is it," he said. "In my view, accident reporting should be a mandatory condition of IPAF membership. Is your company responsible? Does your company want to make the industry safe? If yes, then get on the website and report accidents. If the answer is no, then my view is that you shouldn't be an IPAF member."
Mandatory reporting of accidents is not currently IPAF's policy. The Federation initiated its accident reporting database this year, with the aim of putting a figure on the total number of fatal accidents worldwide involving aerial work platforms, and using the findings to further inform its training and safety programmes.
In his presentation, Peter Douglas also revealed accident statistics at Nationwide over the past three years. Delivery drivers were currently the biggest concern, he noted. In addition, near misses should be reported, not just serious accidents, because near misses indicate the most common risky behaviors. Reducing the number of near misses and minor accidents will gradually lead to reducing the number of more serious and fatal accidents, he said.
In line with the conference theme of analyzing and reducing accidents, IPAF technical officer Chris Wraith urged the industry to report accidents at www.ipaf.org/accident and help save lives. IPAF calls on all manufacturers, rental companies, contractors and users to report any known fatal and serious accidents involving AWPs worldwide and all known accidents involving AWPs in the UK. Information entered into the database is kept strictly confidential and will be used solely for the purposes of analysis and improving safety.
Around 35 companies have registered to use IPAF's accident database, he said, although the numbers actually reporting accidents was still small. IPAF is currently aware of four fatalities worldwide involving platforms that have happened this year.
Chris Wraith said that understanding why accidents happen is key to changing risky behaviors in the field. "I used to bend the rules and ignore authority," he said of his early operator experience as a lorry driver, before his management role in health and safety. In a closer analysis of a handful of recent accidents in the UK, he noted that time pressure was often the cause of the accidents. In each case, the operators were under time pressure to complete a job, leading them to take shortcuts that in the end proved fatal.
Ending his presentation with personal anecdotes, he said, "Every accident is one too many. It is time to cut through the myths and misunderstandings. Log on and start reporting accidents. We have a system here, but it needs your help to help us save lives." 
The next IPAF Summit will be held on March 26, 2013, in Miami, FL. More event details will be available at www.iapa-summit.info
Companies in this article