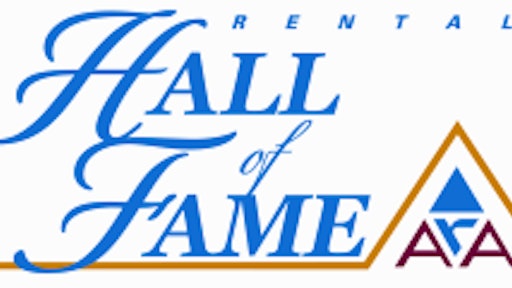 Which individuals are worthy of nomination to the Rental Hall of Fame? That's the question being asked by the American Rental Association (ARA) as it seeks nominations for the 2013 Hall of Fame induction.
The induction will be during the keynote session at The Rental Show, to be held Feb. 10-13, 2013 in Las Vegas. Nominations are due Aug. 1.
To qualify for induction into the Rental Hall of Fame, an individual must be a leader within the rental industry who is creative, innovative, dedicated and a mentor, plus have made significant contributions that have changed the national or international scope of the industry in a positive way. 
"It takes a special individual to be chosen for induction into the Rental Hall of Fame. Those selected are the ones who have definitely impacted and improved the industry," says Ted Cook, ARA chairman of the board and owner of Ventura Rental Center in Ventura, CA. "The only way individuals can be considered for induction is through being nominated. Receiving quality nominations of those who have changed the rental industry on a national or international level is important. Don't assume that others have submitted a nomination – get yours in for those you feel have truly made a positive difference."
Nominations can be made online at ARArental.org or by downloading a PDF to complete and return. 
ARA created the Rental Hall of Fame in 2000 to honor past leaders and the history of the rental industry. Thirty-four individuals have been inducted to date. They are: 
Bill Begley
William F. "Bill" Berry
William "Bill" Bourque
Howard Burnett
Danny Cameron
R. Wayne Collett
Theodore V. deVries
John T. Doran Sr.
George W. Gartner Jr.
Gunnar Glifberg
William P. Grasse
Sam Greenberg
Leonard Hawk
J.T. "Tom" Hawthorne
William "Dugan" Hill
Thomas "Mitch" Hoxie
Brad Jacobs
Daniel Kaplan
James Keenan
Andrew Kennard
Keith W. Klarin
Irving M. Levine
Robert H. MacFarland
Edwin Malzahn
Hotch Manning
Pamela McKenney
Roy Milling
Harold "Hal" Plugge Jr.
William D. Ristow
C.A. "Ziggy" Siegfried Jr.
Leo Swan
Klaus Wacker
S.G. Walker Jr.
Michael Watts
Companies in this article