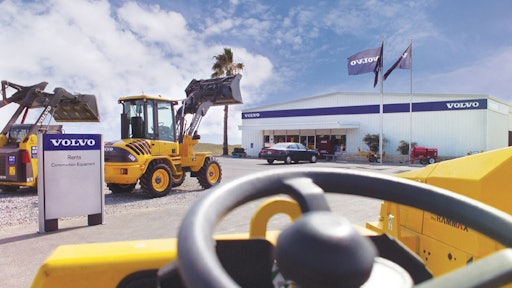 In early 2011, Volvo Rents set a course to not only operate a franchise network of rental centers, but also manage and grow a network of company-owned stores. And while the bulk of Volvo Rents' growth has been through the acquisitions of independently owned construction equipment rental companies, the opening of new stores has played an integral role in the company's expansion strategy. 
In the last six months, Volvo Rents has opened a total of 10 new rental centers throughout North America, including nine in the United States and one in Canada.
"Yes, acquisitions have been a great way for us to expand our North American footprint, but it's not the only way," said Mike Crouch, Vice President of Business Development for Volvo Rents. "We have taken decisive steps to help our business grow and succeed through multiple strategies, and it is these strategies that separate us from our competitors and further distinguish us as the leader in the construction equipment industry."
In addition to an expanding line of Volvo compact equipment – such as backhoe and skid steer loaders, compact wheel loaders, compact excavators and compaction equipment – Volvo Rents stores carry a comprehensive line of essential equipment and tools for the construction, commercial, industrial and homeowner markets. The focus is on daily, weekly and monthly rentals.
According to Crouch, the opening of these new stores comes at a perfect time, as the recession continues to force contractors to be financially prudent.
"Currently, the U.S. is undergoing an unprecedented shift from buying equipment to renting," he added, noting that construction equipment rental revenue grows an average of seven percent annually. "This puts us in a very favorable position as we continue to grow in various markets across the country."
Please visit www.volvorentsconstructionequipment.com/locations to find a Volvo Rents location near you.