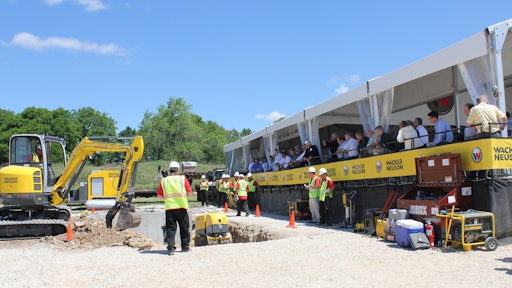 Wacker Neuson hosted a prospective dealer event at its corporate headquarters and training facility in Menomonee Falls, WI. The day-long event (June 12, 2012) was designed to inform business owners on the advantages of partnering with the construction equipment manufacturer.
Twenty-eight dealers representing over 80 locations from 20 states and Canada were invited to explore the opportunities that Wacker Neuson can offer their business.  The day included a working jobsite demonstration where dealers witnessed first-hand the broad line of equipment Wacker Neuson has to offer.  Besides seeing the equipment in action, Wacker Neuson's experienced team of demonstration professionals provided real-life examples of how the equipment can improve performance and provide innovative solutions on the job.
"Our vision is to better serve the contractor segment that relies predominately on light construction and compact equipment to achieve their goals. This will require a strong distribution network that focuses on serving that contractor," said Johannes Schulze Vohren, vice president of sales and product support.  "By combining light and compact equipment, we can provide dealers with high quality products that allow them to service their customers around a complete process.
Wacker Neuson is committed to quality that goes beyond the products it designs and manufactures.  Benefits to the dealer and their organization were highlighted throughout the day and included marketing, sales, financing, application and service support.
"We have a slightly different approach on how we go to business", Schulze Vohren said to the dealers. "We do not believe in loading our distribution up with inventory as the primary revenue driver. Instead, we believe that we are only successful by building a strong distribution network that is profitable. We want to work with you on evaluating, creating and expanding market opportunities. 
Schulze Vohren continued, "We want to partner with you to provide the best service to your customers and maximize your revenue and profit potential with new as well with your existing customers."
Companies in this article