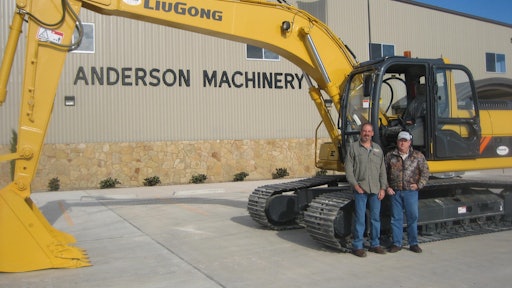 Anderson Machinery, a LiuGong Construction Machinery dealer, faced a major set of hurdles to meet the request of one of its most valuable customers. The customer, Formosa Plastics Corp.'s CFB power plant in Port Comfort, TX, needed an excavator with a special reach arm two feet longer – and excavator bucket four inches wider – than anything Anderson had available.
Brett Morgan, territory sales manager for Anderson's Victoria branch, found himself in a challenging situation. He could have easily told the customer that Anderson did not have an excavator in its product line that could meet their needs, but instead rolled up his sleeves and figured out a way that Anderson could deliver the excavator and bucket required.
Formosa CFB makes polyethylene, polypropylene and other materials – that create tons of ash as a byproduct. The company partners with Louisiana-based LA Ash to process this ash into slurry for use as a ground stabilizer in the construction of roads. LA Ash officials said due to the size of Formosa's slurry trench, that they would need an excavator with an 11½-foot stick and 54-inch wide bucket. The trench measured 20 feet wide, 20 feet deep and 100 feet long. The excavator purchased would need to access the material from various points on the perimeter of the trench.
The closest excavator Anderson offered was a 58,400 lb., 190-hp LiuGong CLG925LC – with a standard 9-foot, 10-inch stick and 50-inch, 1.55-cubic yard bucket. At that point, Morgan went to work to find a solution that would satisfy the decision-makers at both Formosa CFB and LA Ash.
Morgan worked closely with LiuGong representatives and a Portland, OR manufacturer to get a custom-built stick manufactured. He then tracked down a company in Chattanooga, TN to supply the larger bucket.
Morgan consulted with Stan Parry, general manager of Anderson Machinery's Victoria branch, and LiuGong's George Lumpkins, director of aftermarket operations. Parry said about the search, "The thing is, you can't just add two feet to a stick or four inches to a bucket. It changes the geometry and the leverage of the machine, so they have to be custom designed and manufactured."
Lumpkins helped Anderson find Jewell Manufacturing, the Portland OR-based manufacturer who custom-built the longer stick. He also assisted Morgan in working with Tag Manufacturing of Chattanooga, TN to get the custom sized bucket manufactured. Morgan's tenacity – and Lumpkins' years of industry experience – paid off for both Anderson Machinery and its customers.
Fred Ridenour, general manager of business operations for LiuGong, said the extra effort was about delivering what was needed. "Some manufacturers might just say no, and move on to an easier sale," said Ridenour. "Or the dealer might be left to try and figure it out themselves to satisfy their customer. LiuGong worked hard to help Anderson gain the sale.  We view our dealers as valuable partners and place a strong emphasis on going above and beyond when it comes to customer service.  This was certainly demonstrated throughout the sale. Sometimes you have to be creative in the excavator business. "
For Anderson Machinery, LiuGong's extra effort paid off in another way as well.
"Not only did we get the correct length stick and larger bucket built and fit onto the LiuGong CLG925LC excavator, meeting the customer's need, but we also gained an additional sale out of the effort. Formosa was so pleased with the excavator and the personal attention they received that they also purchased a 4.58 cubic yard LiuGong 856III, 220 hp wheel loader from us. Needless to say, it was a good deal all around for our dealership, LiuGong, LA Ash and Formosa CFB."
Companies in this article