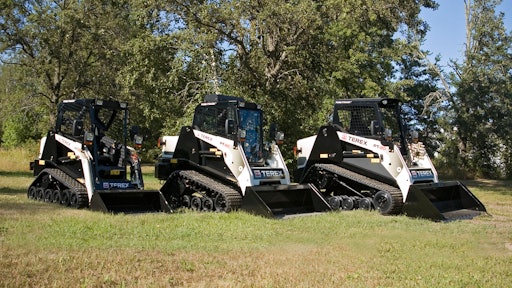 Lindsey Implement Inc. now offers the full line of Terex compact construction equipment, which includes 45 unique product models including Terex compact track loaders, wheel loaders, excavators, skid steers and loader backhoes to customers in North Dakota. In taking on the Terex line, Lindsey Implement now offers a complete line of new and used equipment, full service on all makes and models by factory-trained, certified technicians, as well as a fast response and turnaround time parts department to keep customers productive.
"We are pleased to welcome Lindsey Implement as our newest Terex compact equipment distributor," said Dean Barley, vice president and general manager, Terex Construction Americas and Global Aftermarket. "The oil industry in North Dakota is really taking off, and with the complete line of Terex compact construction equipment, Lindsey Implement is poised to offer customers the equipment and services they need, when they need them."
Gary Lindsey founded Lindsey Implement in 1990 as a full-line agricultural equipment distributor. Over the years, Lindsey has grown to employ 13 employees and has expanded its operations to include customers in a variety of industries including agricultural, construction, gas, oil and pipeline. The company keeps flexible hours to fit its customers' working seasons.
"The economy in northwest North Dakota is booming," says Lindsey. "Taking on the Terex line will help us better service our existing customers' equipment needs, as well as enable us to attract new customers working in the area."
In addition to offering a full line of Terex compact equipment products and services, qualified Lindsey Implement customers can take advantage of financing options through Terex Financial Services. Terex Financial Services offers a range of finance and leasing solutions, structured to accommodate customers' cash flow and budgets. The Terex Financial Services team is equipped to assist in all areas of asset management, from the analysis of future equipment values through the disposal of used equipment.
Companies in this article