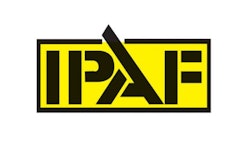 The International Powered Access Federation (IPAF) is expanding in the Benelux and has appointed an additional member of staff. Jur Kamsteeg, previously training supervisor at Riwal, is joining IPAF Benelux as business development manager from December 2013. He will work closely with Hans Aarse, IPAF's representative for the Benelux.
Jur Kamsteeg's 18-year career at Riwal saw him move through several positions, from low-loader driver, to warehouse manager and planner on the Riwal access platform rental department. He set up an extremely successful training department at Riwal seven years ago.
"Jur brings a wealth of experience related to the training industry in the Netherlands," said Hans Aarse, IPAF Benelux. "We will focus more on IPAF's development in Belgium, where the first contracts for new training centres are already in place. With Jur, we look forward to the next step ahead in the growth of IPAF Benelux, reaching new heights, supporting members and increasing the provision of good quality training."
"Jur's experience will strengthen our Benelux team and is part of IPAF's overall policy of investing to boost member support," said IPAF CEO Tim Whiteman.
Companies in this article