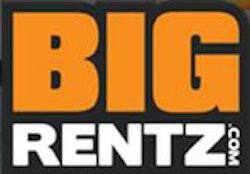 BigRentz.com (www.bigrentz.com), has announced they have been contracted by Fox Sports to provide several pieces of equipment for use during the upcoming NFL championship game, taking place in East Rutherford, New Jersey's MetLife Stadium on Sunday Feb. 2, 2014.
The company has a long history of supplying equipment for use at nationally televised sporting events, and has established strong partnerships with the majority of leading television networks. BigRentz.com has worked with numerous television studios and producers, as well as major sports and entertainment venues across the nation, to provide equipment on a rental basis.
"We specialize in providing the highest quality equipment, including hard-to-find items, anywhere in the country," said Stephen Jesson, Executive Vice President of BigRentz.com. "Networks know they can count on us to deliver without compromise, every time."
This year's highly-anticipated NFL championship, pitting the Denver Broncos against the Seattle Seahawks, in what many say will be the best match-up in years, is estimated to attract a live audience of more than 110 million viewers.
"I will be watching the game with friends and family," Jesson commented. "But when everyone else is paying attention to the action on the field, I'll be looking for a glimpse of our equipment, and enjoying the fact that we are a part of the biggest sporting event in the world."
BigRentz.com offers a convenient single source for construction rental equipment. With a network of thousands of dealer locations, BigRentz.com makes it easy for businesses, contractors and operators to rent equipment of all kinds, with one just phone call.
BigRentz.com offers both short- and long-term rentals, and specializes in forklift, scissor lift, boom lift, backhoe, skid steer, and excavator rentals to meet the needs of the construction industry, businesses and retailers. BigRentz.com has over 2000 locations across the U.S. to serve every major metropolitan city, as well as most rural areas.
Companies in this article