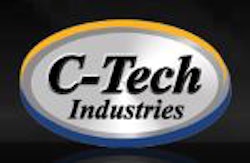 C-Tech Industries LLC, a leading manufacturer of joysticks and control boxes for aerial equipment, announces the winner of the refurbished scissor lift stocked with C-Tech components.
Theros Equipment, Sterling, VA, is the winner of the 2005 refurbished SkyJack 3219 outfitted with the following C-Tech components; control box and joystick, battery charger, decals and more. The refurbished SkyJack 3219 was showcased at ARA's The Rental Show in Orlando, FL. C-Tech contacted Joel Theros and Jeremy Lawrence at Theros Equipment March 3, notifying them they had won the scissor lift.
C-Tech Industries plans on delivering the scissor lift to Theros Equipment the first week of April. C-Tech's Sales Manager, Gary Ondrus, sales and marketing coordinator, Katie Sander, and manufactures sales representatives from Trimble and Associates will be on hand at the presentation of the scissor lift to Theros at their Sterling, VA location.
"We are looking forward to visiting with the team at Theros Equipment and presenting this scissor lift to them. Theros has been a loyal customer of C-Tech Industries and we are very appreciative of their continued business. This giveaway was a successful promotion and essentially launched the new refurbished equipment line for us," says Katie Sander, C-Tech sales and marketing coordinator.
Companies in this article