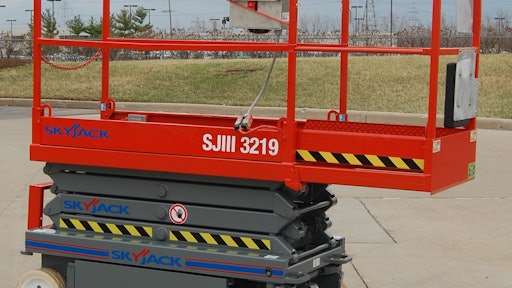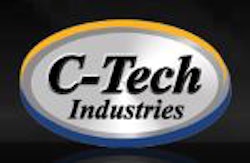 C-Tech Industries, LLC, a leading manufacturer of joysticks and control boxes for aerial equipment, delivered its first refurbished scissor lift order to Hamilton Rental in Hamilton, OH.
C-Tech introduced its refurbished equipment in February 2014, offering Genie, JLG, and SkyJack 19- and 26-foot narrow scissor lifts with brand new C-Tech components, including, control box, cable, battery charger and decals. Hamilton Rental out of Hamilton, OH was the first to place an order for three 19-foot SkyJack scissor lifts. Dave Baker, owner of Hamilton Rental, placed the order at ARA's The Rental Show. 
C-Tech's sales manager, Gary Ondrus, and C-Tech's sales and marketing coordinator, Katie Sander, delivered the equipment to Hamilton Rental on Tuesday, April 1, 2014. "C-Tech is very excited to be on hand at the first scissor delivery," Ondrus says. "Our refurbished equipment efforts are designed to drive our core parts business. The machine give us access to additional customers and also provides a solution, allowing the used machine customer to experience our products even though they were not necessarily looking for replacement parts. What's cool about that is they will need replacement parts sooner or later and they have already experienced C-Tech as their trusted, reliable source," Ondrus adds.
For more information about C-Tech's refurbished equipment, go to www.ctech-ind.com and click on the refurbished equipment tab or email refurbishedequipment@ctech-ind.com for inquires and pricing.
Companies in this article