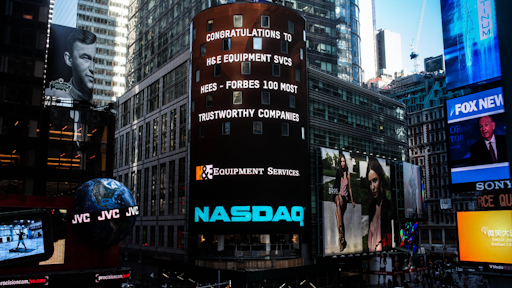 H&E Equipment Services Inc. (H&E) is proud to announce being selected as one of "America's 100 Most Trustworthy Companies" as published in Forbes magazine. Forbes defines the most trustworthy companies as those organizations that "have consistently demonstrated transparent and conservative accounting practices and solid corporate governance and management. These companies do not play games with revenue and expense recognition, or with asset valuation."
Each year, the investment advisor organization, GMI Ratings, reviews top public companies to determine their AGR (Accounting and Governance Risk) Rating. The list of the "100 Most Trustworthy Companies in America" is then provided to Forbes magazine for publication. The criteria used to determine a company's credibility includes high-risk financial events, revenue and expense recognition methods, SEC actions, and bankruptcy potential, among 58 other governance and accounting measures. H&E achieved one of the highest ratings in its class, scoring 95 out of a possible 100.
"This is truly a significant accomplishment when you consider our many peers in the construction equipment industry; the thousands of companies throughout our country; and the 8,000 publicly-traded organizations that were evaluated. This prestigious recognition is a tremendous compliment to every employee in our organization. Top performance in these areas of our business validates and reinforces our core values of honesty, integrity, and commitment to our employees, customers, and investors" says John Engquist, H&E CEO.
Learn more at the following link: http://www.forbes.com/sites/kathryndill/2014/03/18/americas-100-most-trustworthy-companies/