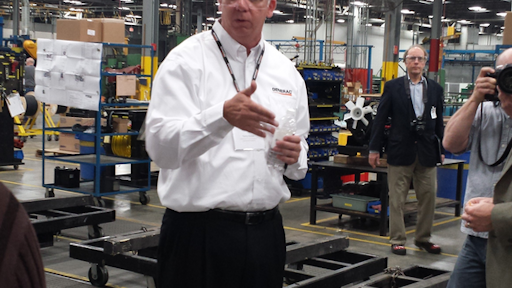 Power generation solutions are complex and differ greatly by industry. For rental businesses to effectively serve their various customers with these products and services, it takes a lot of knowledge and a well rounded inventory of equipment. Generac is a company that's growing with the intent of meeting those supply needs for the $18-billion global power generation market. This was the message conveyed at Generac when it hosted media at its Oshkosh, WI location on May 7.
Traditionally known for serving the consumer market, Generac is quickly growing into the commercial and industrial markets with its recent acquisitions of  Magnum Power Products and Baldor Electric, located in Berlin and Oshkosh, WI, respectively. As a result of those acquisitions, Generac's current commercial and industrial lineup is among the most expansive and comprehensive in the power generation industry today. The lineup now includes generators as large as 3.25 megawatts and paralleled power solutions as large as 100 megawatts, plus light towers as well.
 
"Power is our primary focus," said Generac CEO and president Aaron Jagdfeld. "We believe our comprehensive product lineup combined with our dealer network, service, and engineering support make our solutions the best choice for commercial and industrial applications."
Beyond meeting any power requirement, Generac's commercial and industrial lineup comes with the unique ability to adjust to different application needs, from single generator sets to paralleled solutions to multiple fuel types. While diesel-fueled systems had once been the norm, engineering professionals are seeing the value in other fuel types. Generac offers diesel gensets, but has been a leader in gaseous-fueled generators for more than 30 years, and has invested in technology to help engineers leverage the advantages of gaseous fuel in even large-kilowatt applications. These include natural-gas fueled generator systems, the GeneracFuelmegawatt applications with greater reliability using a series of smaller gensets instead of a single large unit.
"Natural gas has many advantages over diesel in a variety of applications," said Terry Dolan, executive vice president of commercial and industrial products, Generac. "It's cleaner burning, it offers virtually unlimited running time, and it doesn't carry the environmental concerns associated with diesel fuel storage."
Generac also understands different industries have different concerns when it comes to standby power. Health care applications must abide by strict regulations regarding life safety. Data centers seek specific Tier Certifications. Whatever the unique needs of the industry, Generac has the expertise to help design, install, commission and support a standby power system that will meet them.
"Our commercial and industrial offerings make it easy for engineers," said Terry Dolan, executive vice president of commercial and industrial. "Deciding how to design a power solution is the hard part. Partnering with Generac makes the process easy because our solutions are designed to meet the challenges engineers face every day."